Queens' Alumni Carol Service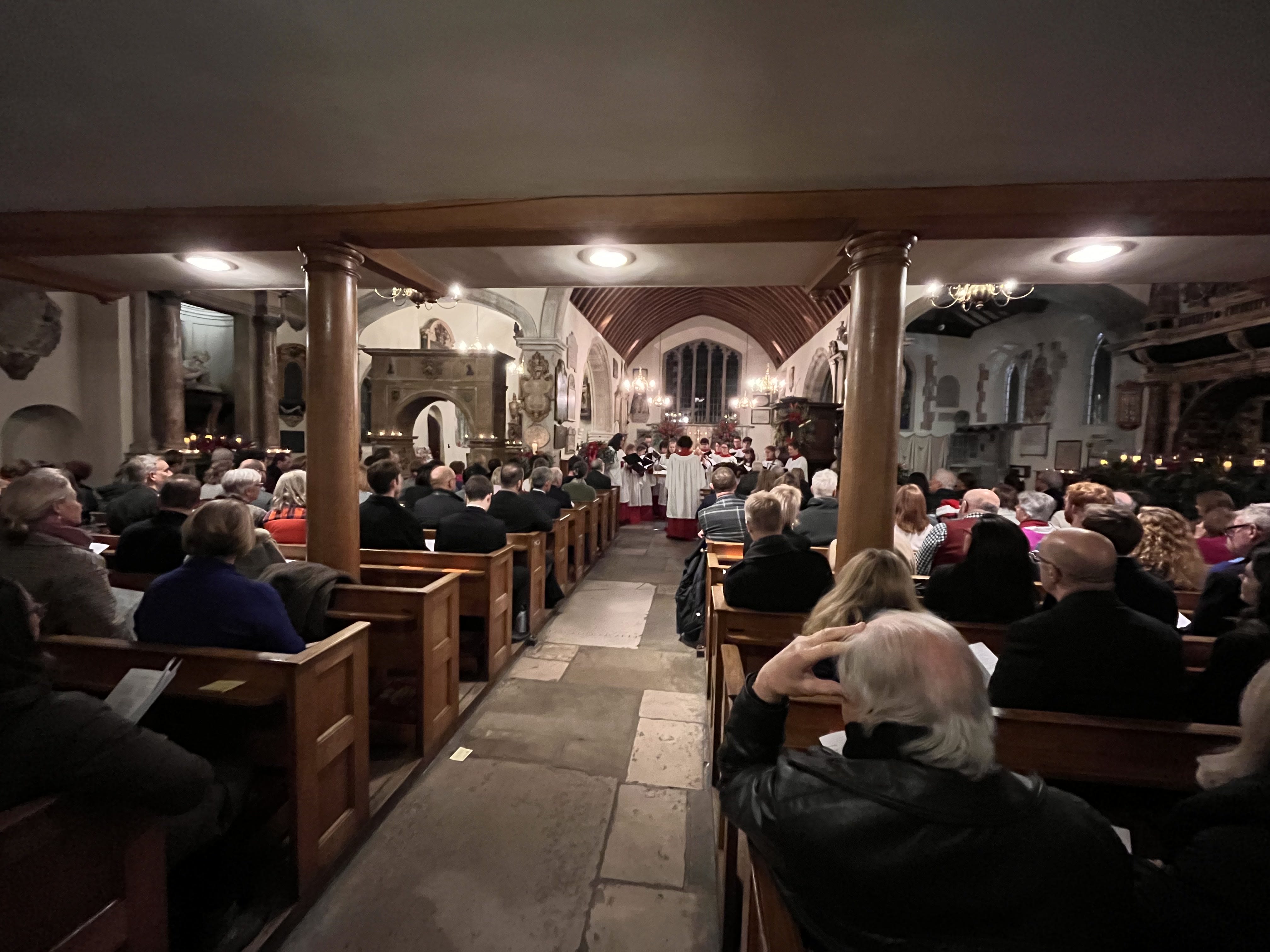 Our annual Alumni Christmas Carol Service took place on a frosty evening at Chelsea Old Church on Thursday 15th December.
Over 300 alumni attended the service, with mince pies and mulled wine served afterwards in the adjacent Petyt Hall. We were treated to more contemporary anthems such as 'The Pear Tree Carol' (Bob Chilcott, 1955- ), along with more classic congregational carols such as 'Once in Royal David's City' and 'O little town of Bethlehem'. Alumni, Fellows and students gave readings throughout the service.
We wish all our alumni a very Merry Christmas and all the best for 2023.
A digitally accessible order of service can be downloaded here.
Special thanks to:
Revd Max Bayliss and his hard working team at Chelsea Old Church for generously hosting the service and for their warm welcome.
Our alumni readers, Nigel Farrow (1958) and Hope Whitehead (2015).
Our musicians, Benjamin Markovic (2020) and Jack McCabe (2021), the Aliki Vatikioti and George C. Phillips Organ Scholars.
The President, Fellows and staff in the Alumni & Development Office.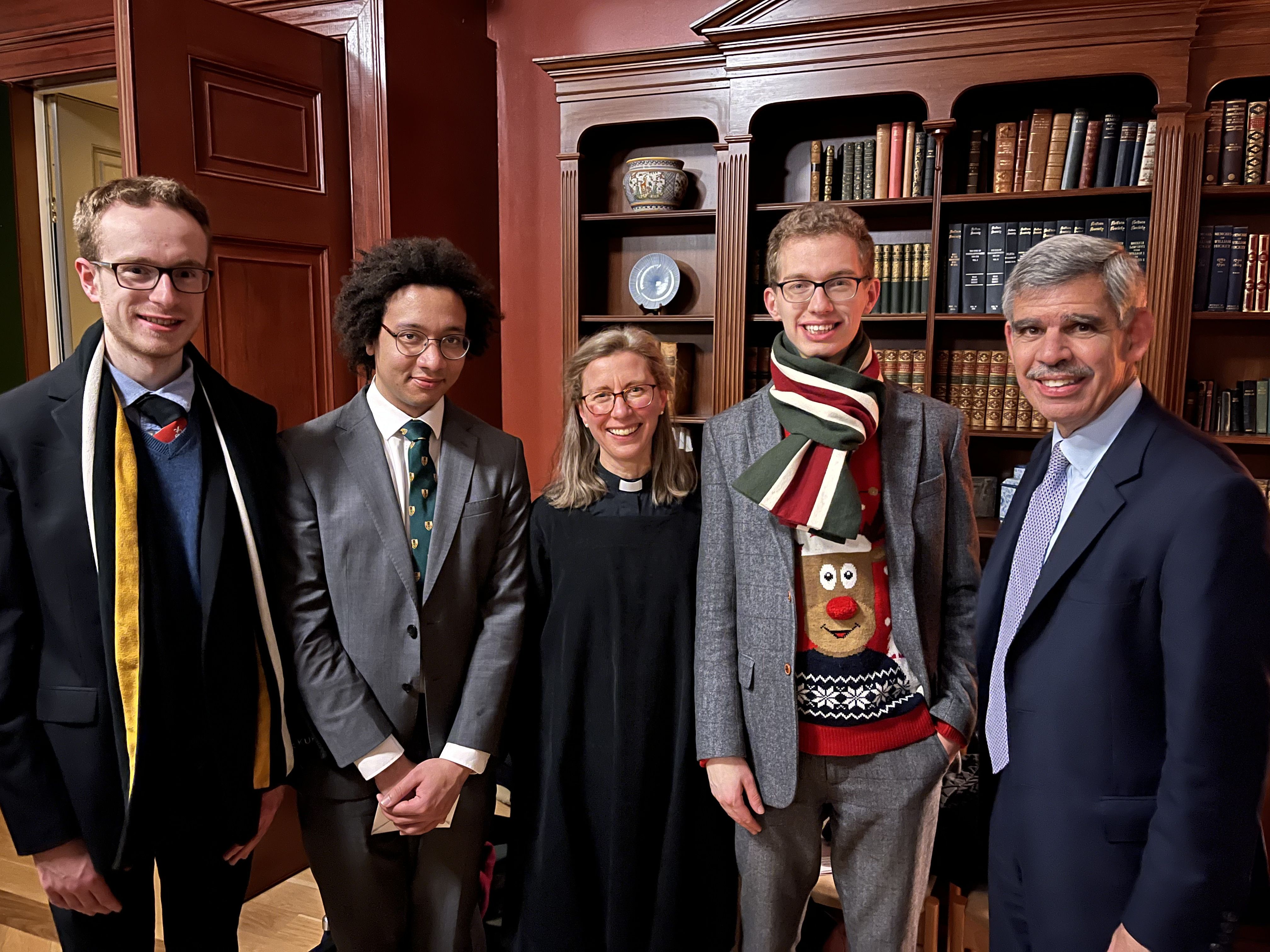 L-R: Jack McCabe, the George C. Phillips Junior Organ Scholar (2021), Nick Morris, Bye-Fellow & Director of Music (2011), Revd Anna Jones, Ben Markovic, the Aliki Vatikioti Senior Organ Scholar (2020) and Dr Mohamed El-Erian
L-R: Jack McCabe, the George C. Phillips Junior Organ Scholar (2021), Nick Morris, Bye-Fellow & Director of Music (2011), Revd Anna Jones, Ben Markovic, the Aliki Vatikioti Senior Organ Scholar (2020) and Dr Mohamed El-Erian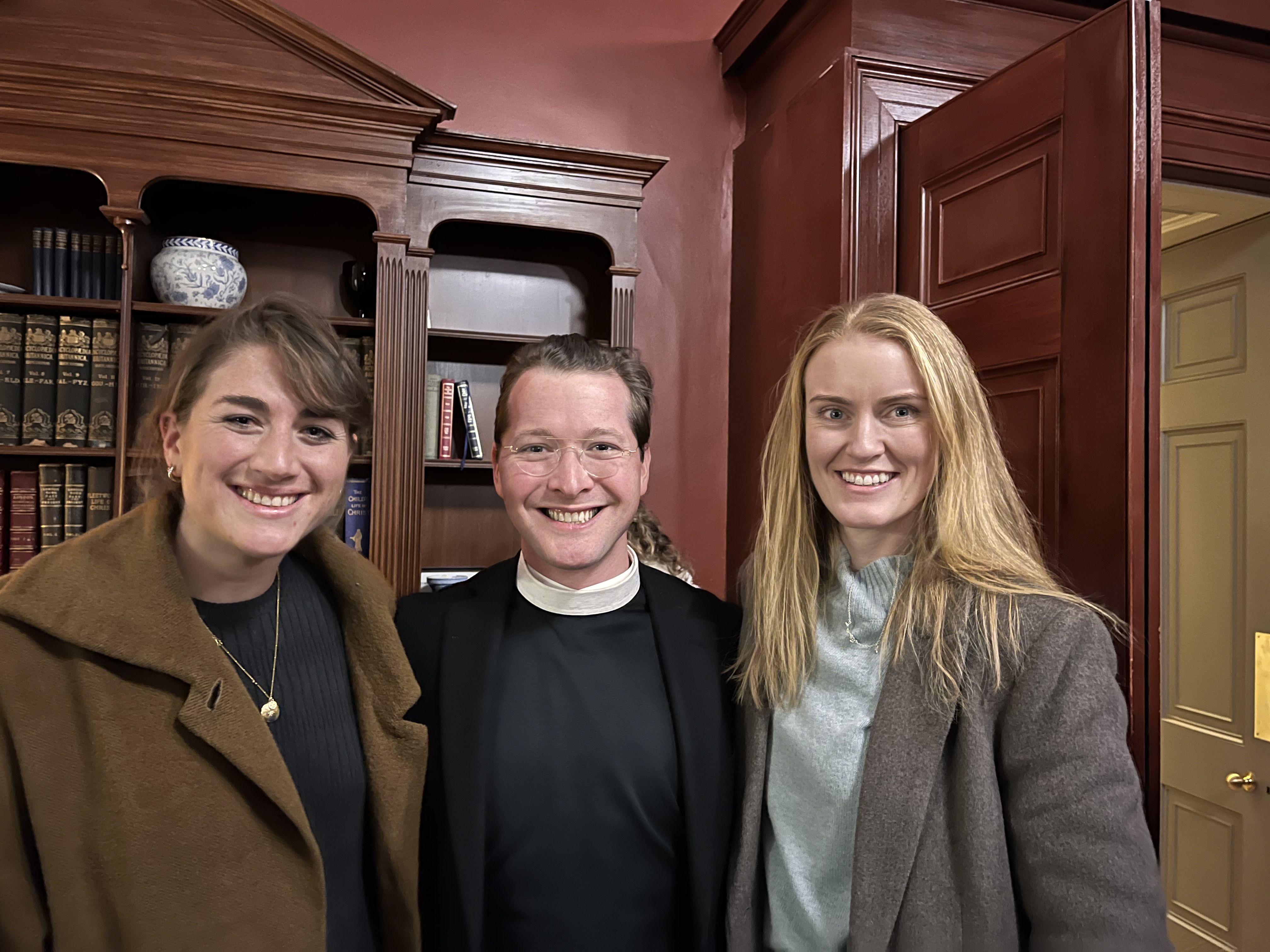 L-R: Ruby Tew (2021), Revd Max Bayliss and Grace Prendergast (2021)
L-R: Ruby Tew (2021), Revd Max Bayliss and Grace Prendergast (2021)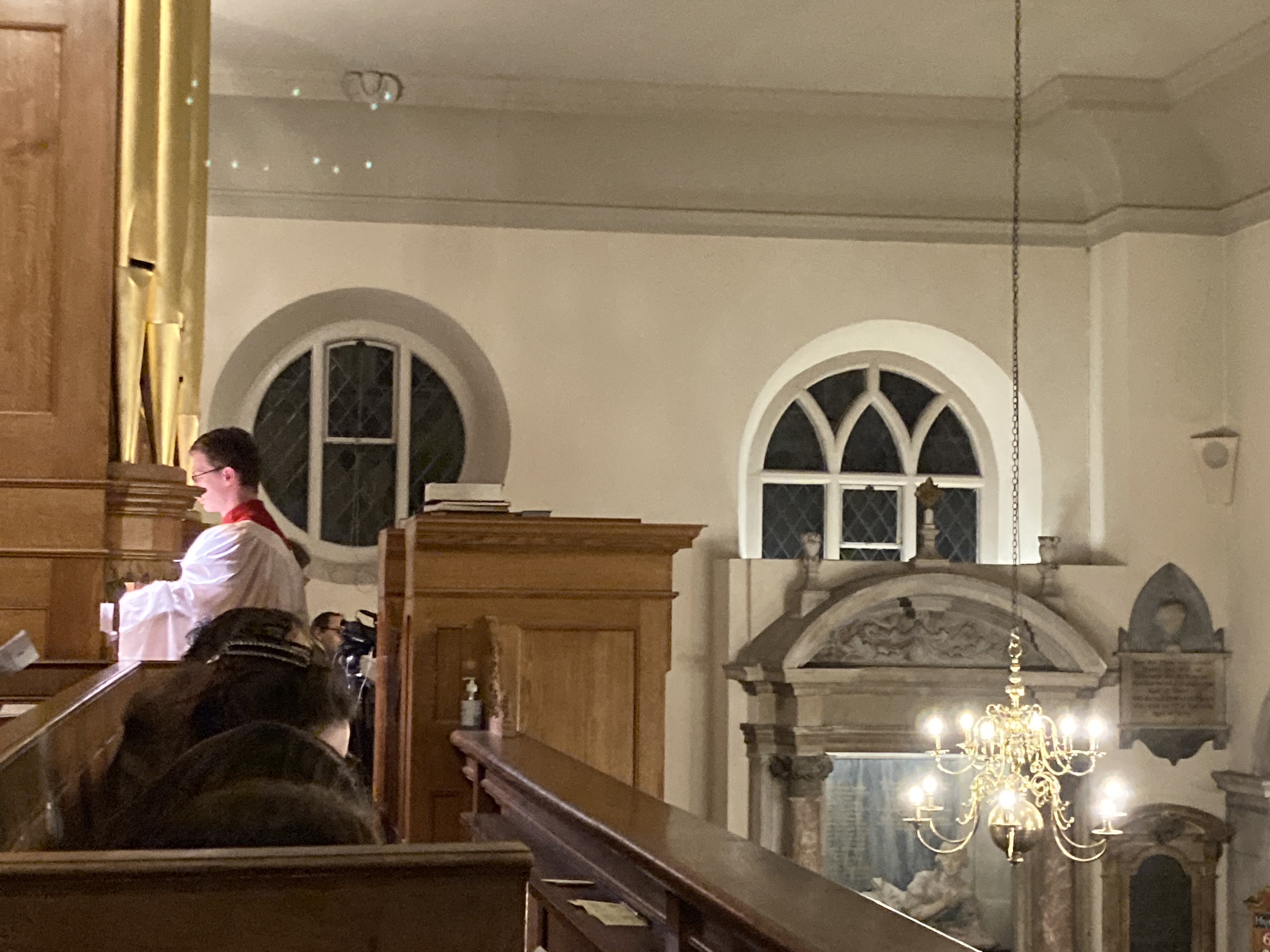 Benjamin Markovic (2020), the Aliki Vatikioti Senior Organ Scholar
Benjamin Markovic (2020), the Aliki Vatikioti Senior Organ Scholar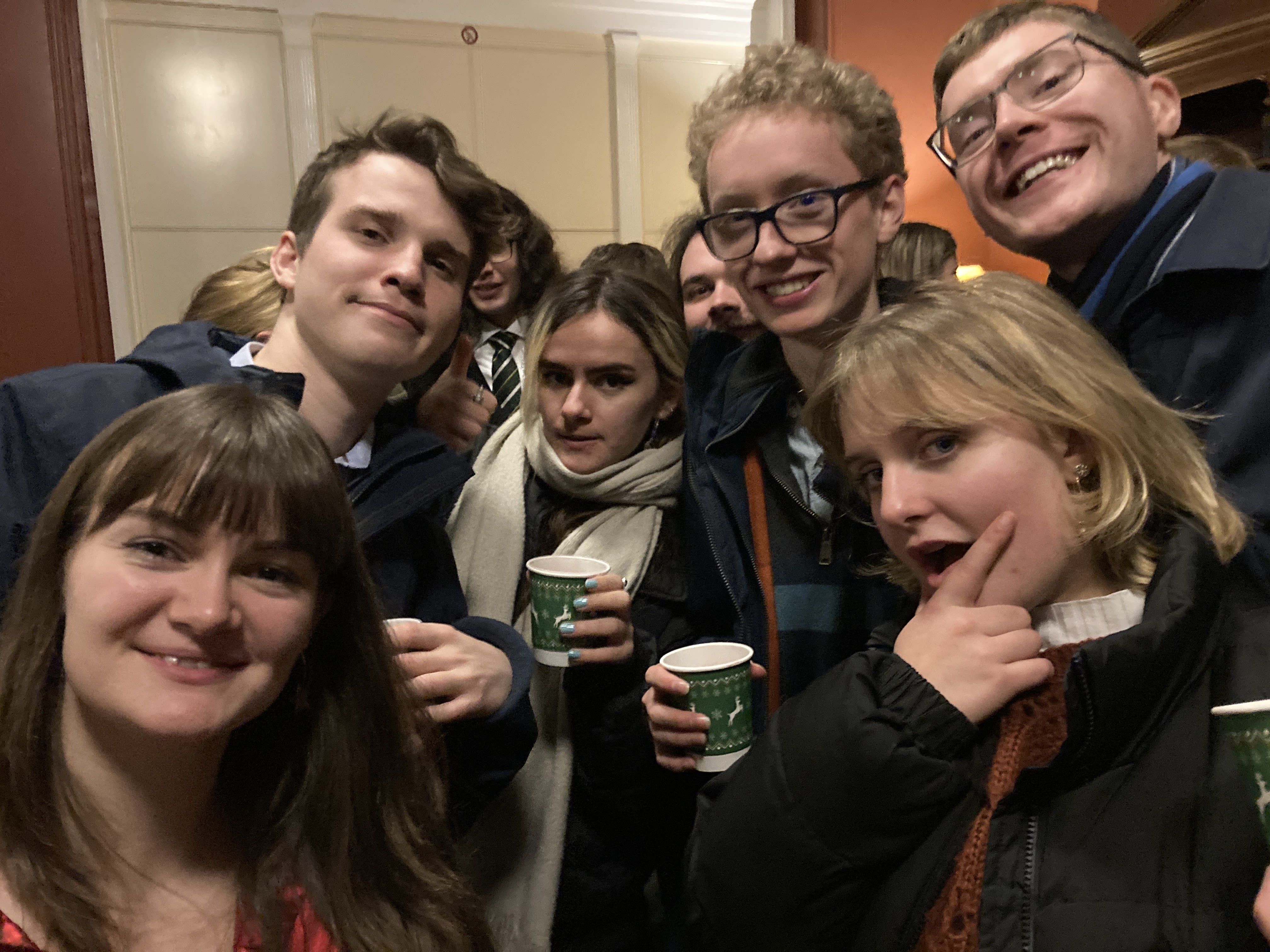 Members of the Queens' College Chapel Choir enjoying mulled wine
Members of the Queens' College Chapel Choir enjoying mulled wine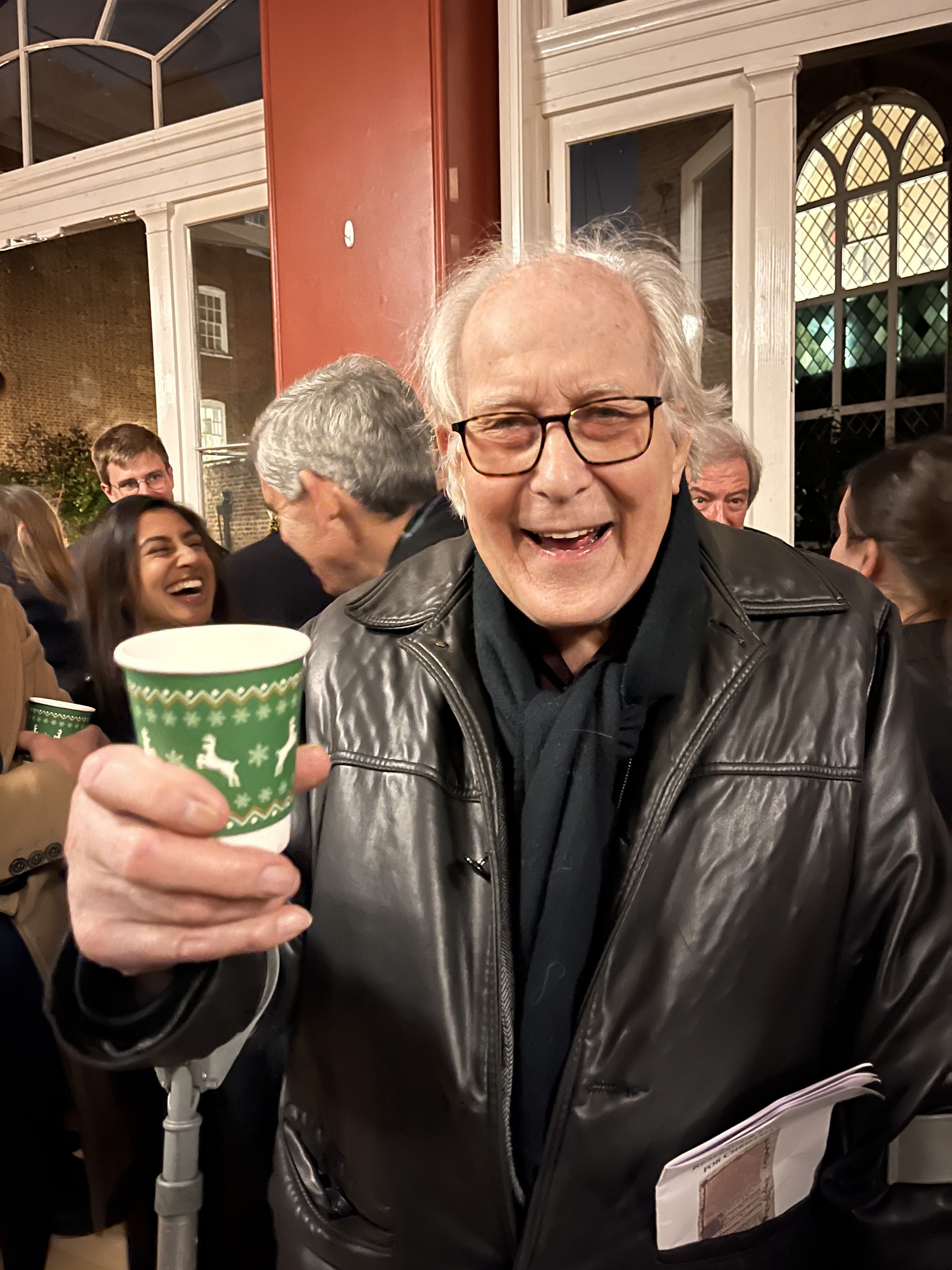 The most senior alumnus in attendance, Mr Bob Paterson, MBE (1956)
The most senior alumnus in attendance, Mr Bob Paterson, MBE (1956)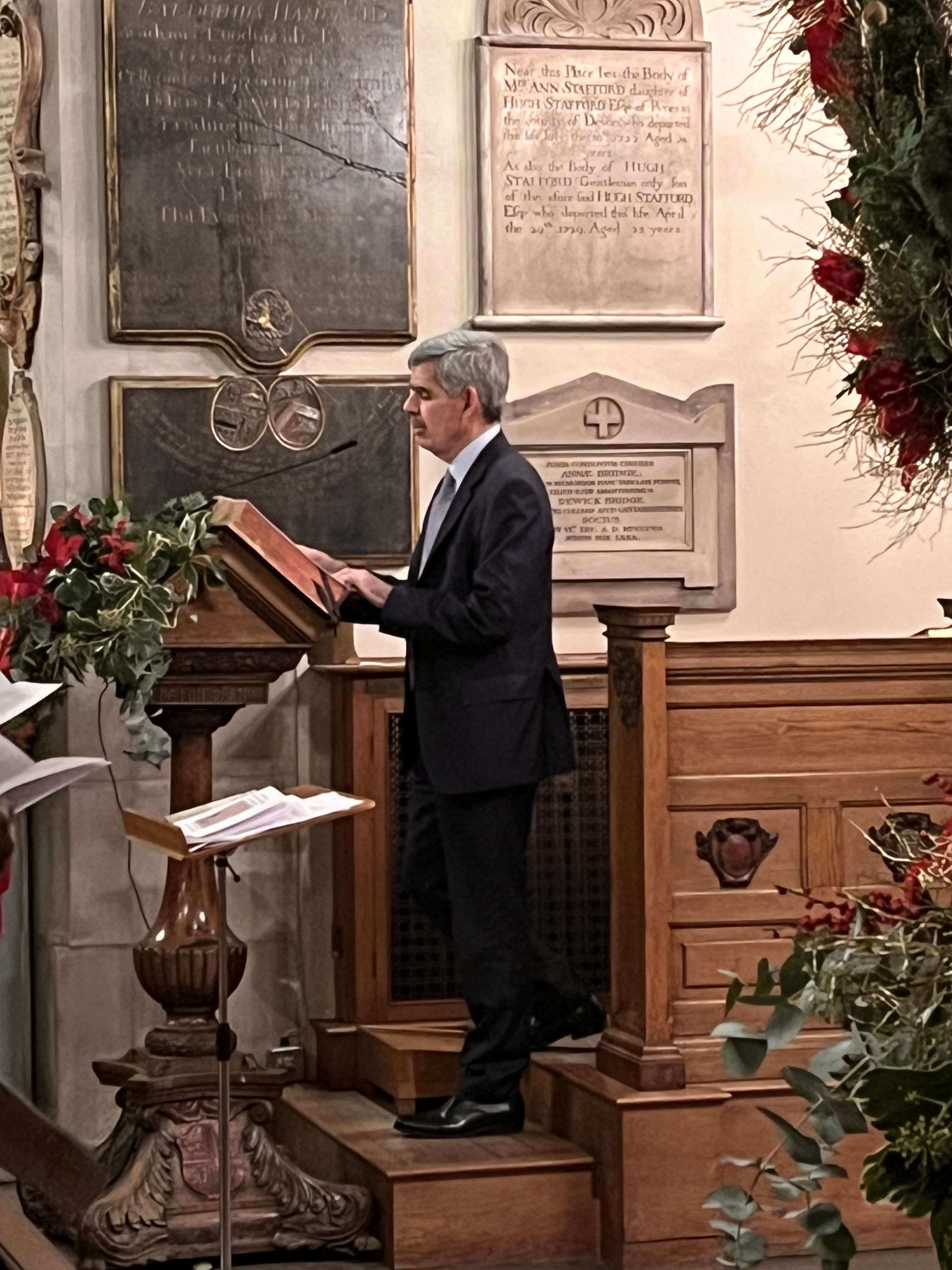 The President, Dr Mohamed El-Erian, during his reading from John 1.1-14
The President, Dr Mohamed El-Erian, during his reading from John 1.1-14
Item 1 of 6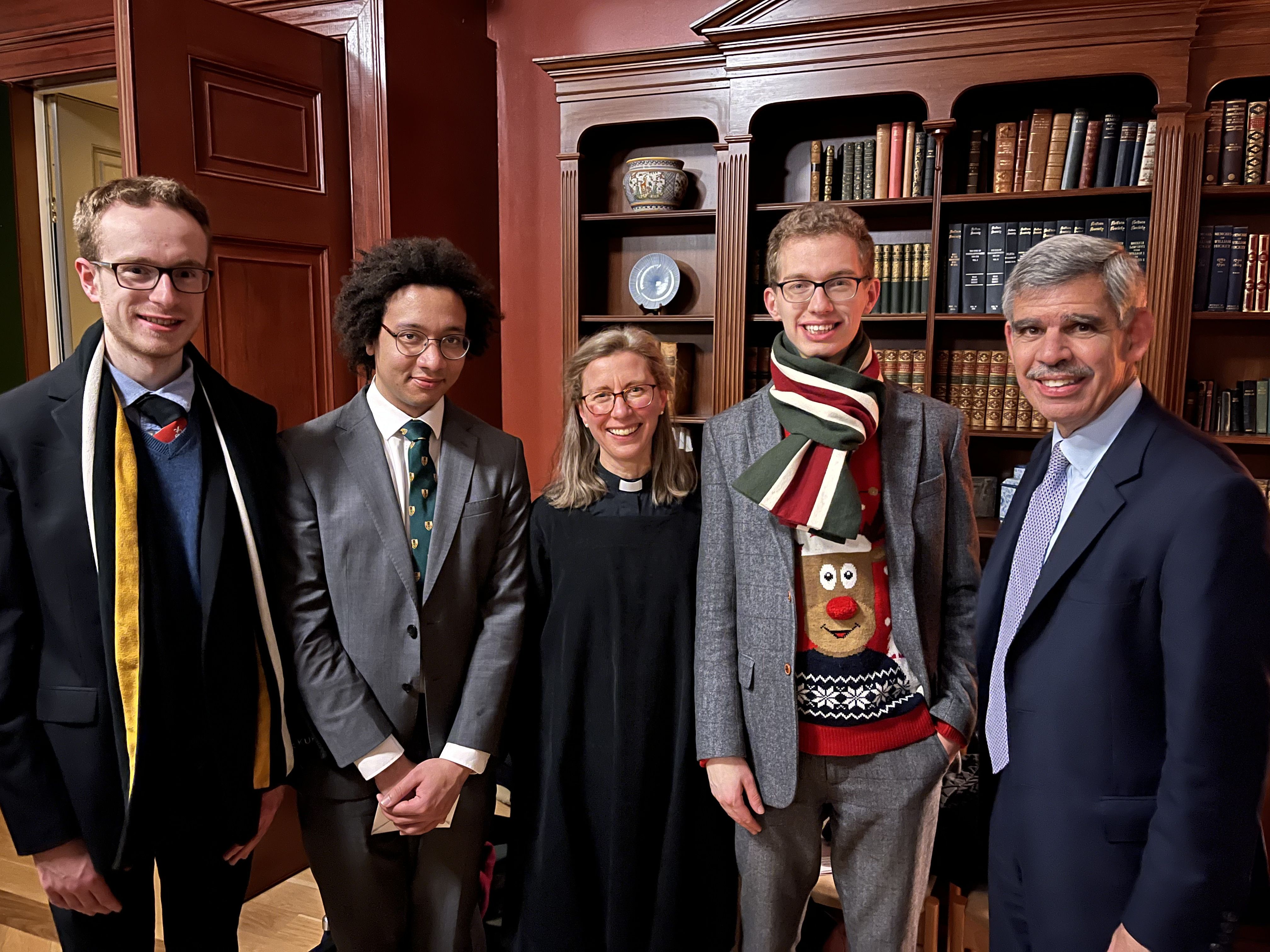 L-R: Jack McCabe, the George C. Phillips Junior Organ Scholar (2021), Nick Morris, Bye-Fellow & Director of Music (2011), Revd Anna Jones, Ben Markovic, the Aliki Vatikioti Senior Organ Scholar (2020) and Dr Mohamed El-Erian
L-R: Jack McCabe, the George C. Phillips Junior Organ Scholar (2021), Nick Morris, Bye-Fellow & Director of Music (2011), Revd Anna Jones, Ben Markovic, the Aliki Vatikioti Senior Organ Scholar (2020) and Dr Mohamed El-Erian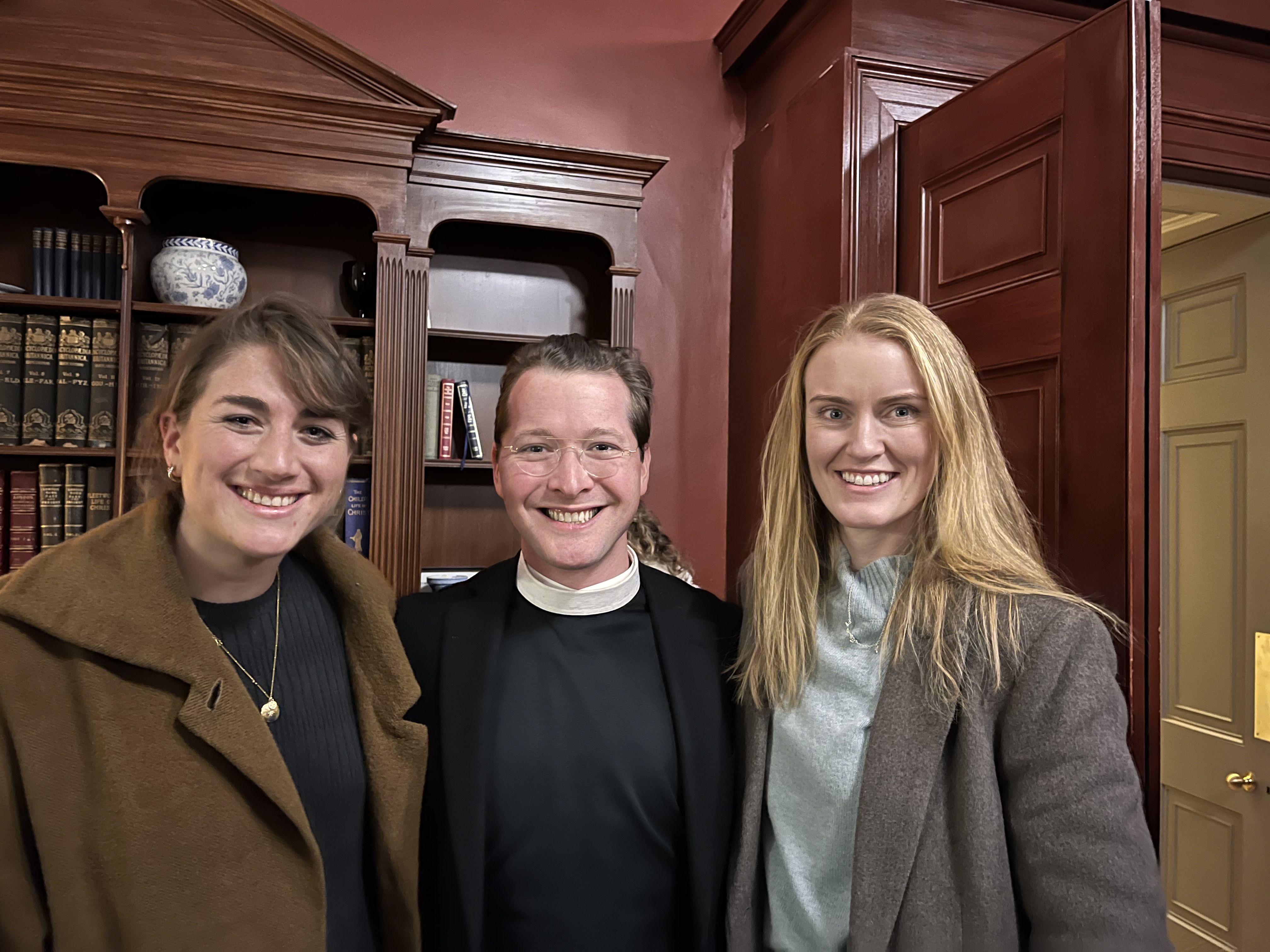 L-R: Ruby Tew (2021), Revd Max Bayliss and Grace Prendergast (2021)
L-R: Ruby Tew (2021), Revd Max Bayliss and Grace Prendergast (2021)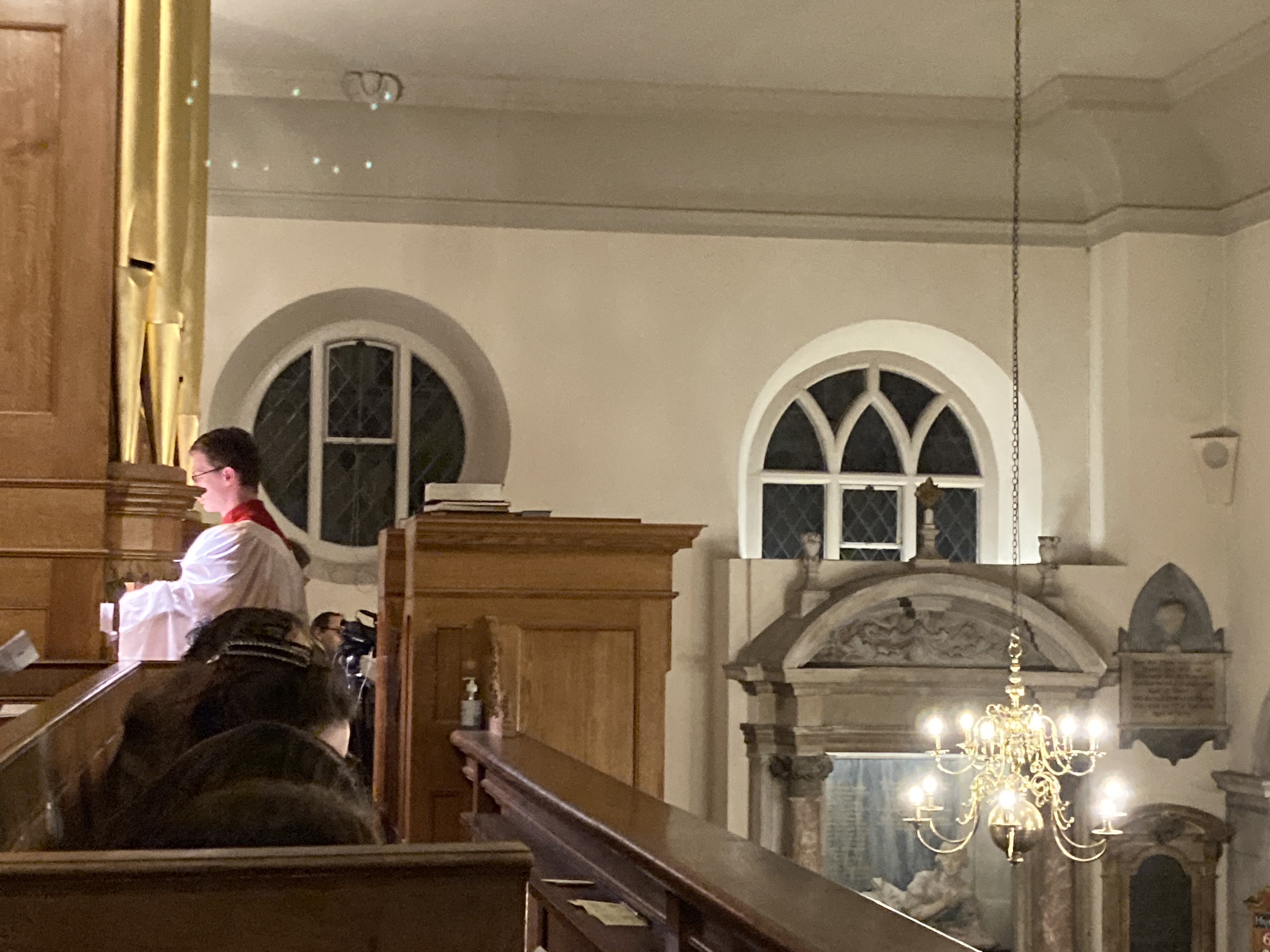 Benjamin Markovic (2020), the Aliki Vatikioti Senior Organ Scholar
Benjamin Markovic (2020), the Aliki Vatikioti Senior Organ Scholar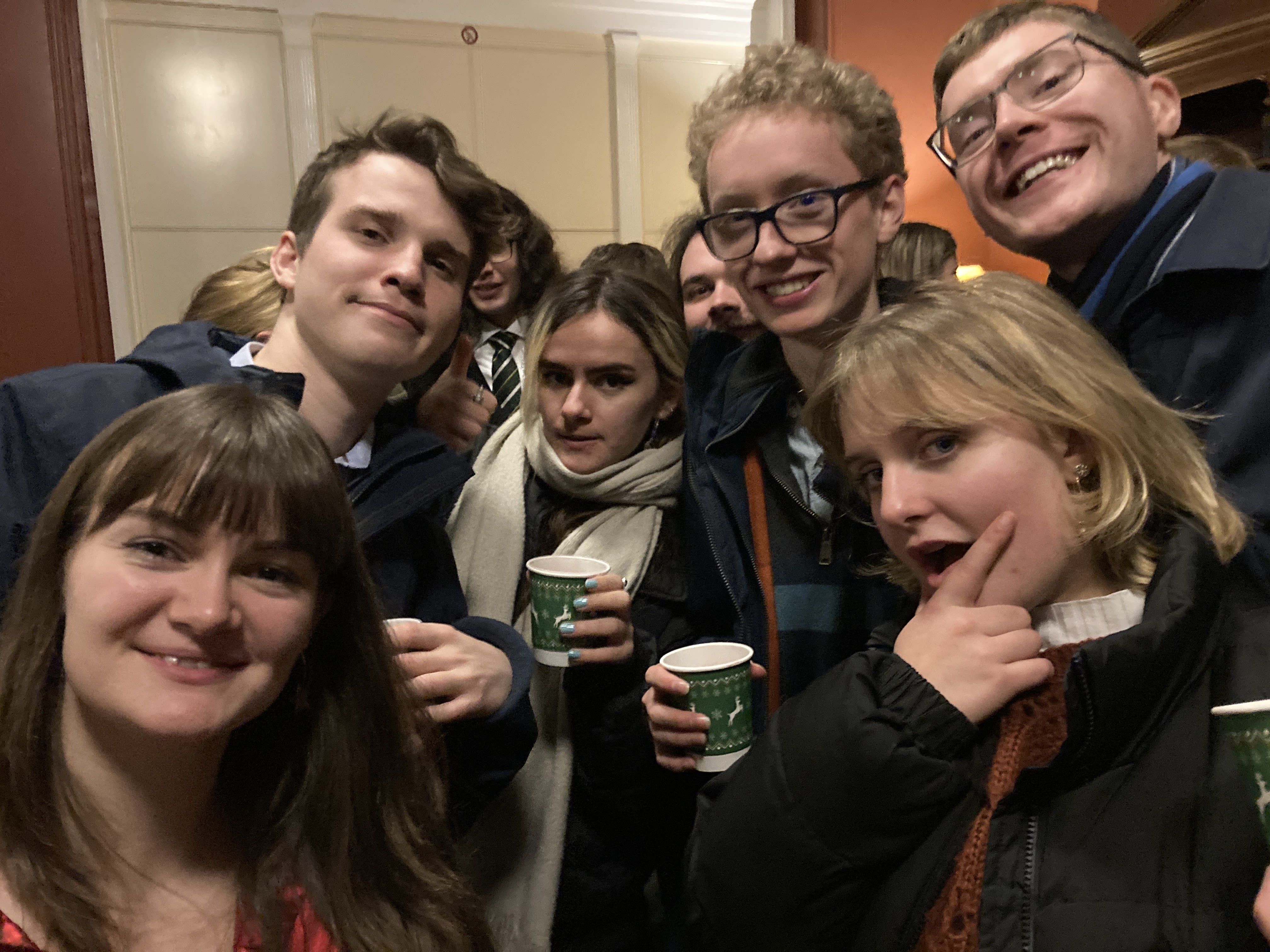 Members of the Queens' College Chapel Choir enjoying mulled wine
Members of the Queens' College Chapel Choir enjoying mulled wine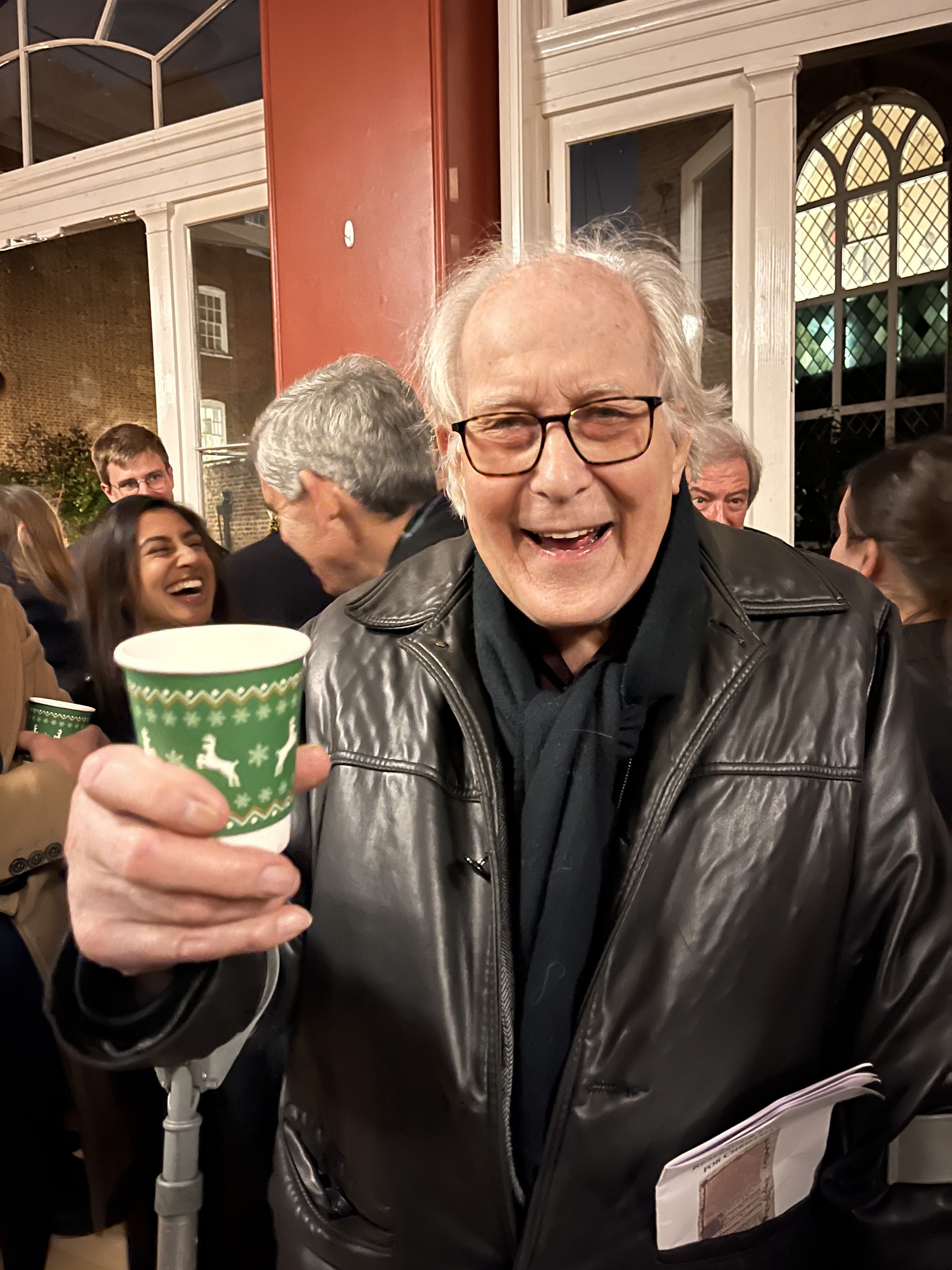 The most senior alumnus in attendance, Mr Bob Paterson, MBE (1956)
The most senior alumnus in attendance, Mr Bob Paterson, MBE (1956)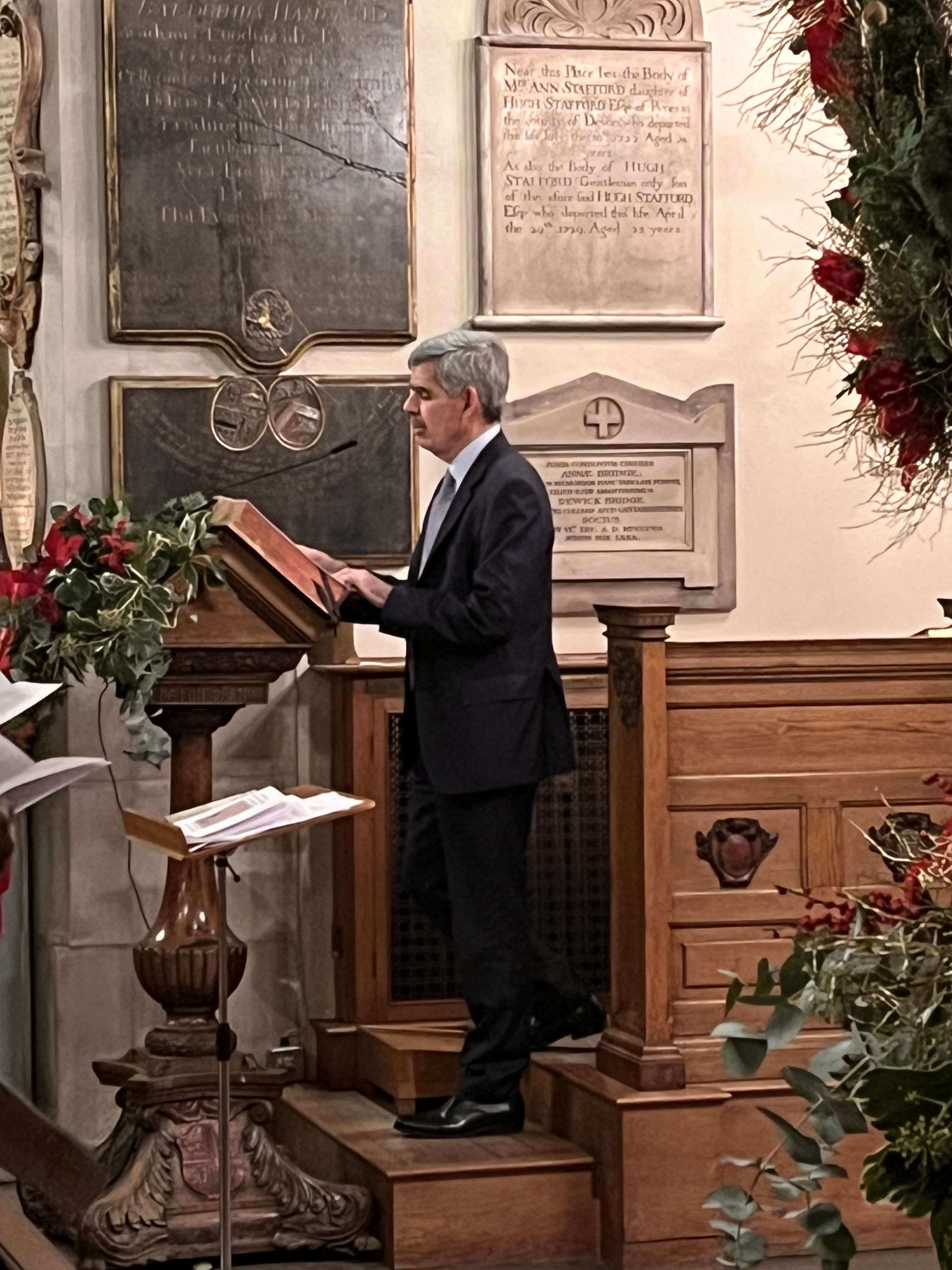 The President, Dr Mohamed El-Erian, during his reading from John 1.1-14
The President, Dr Mohamed El-Erian, during his reading from John 1.1-14