The Cripps family visits Queens'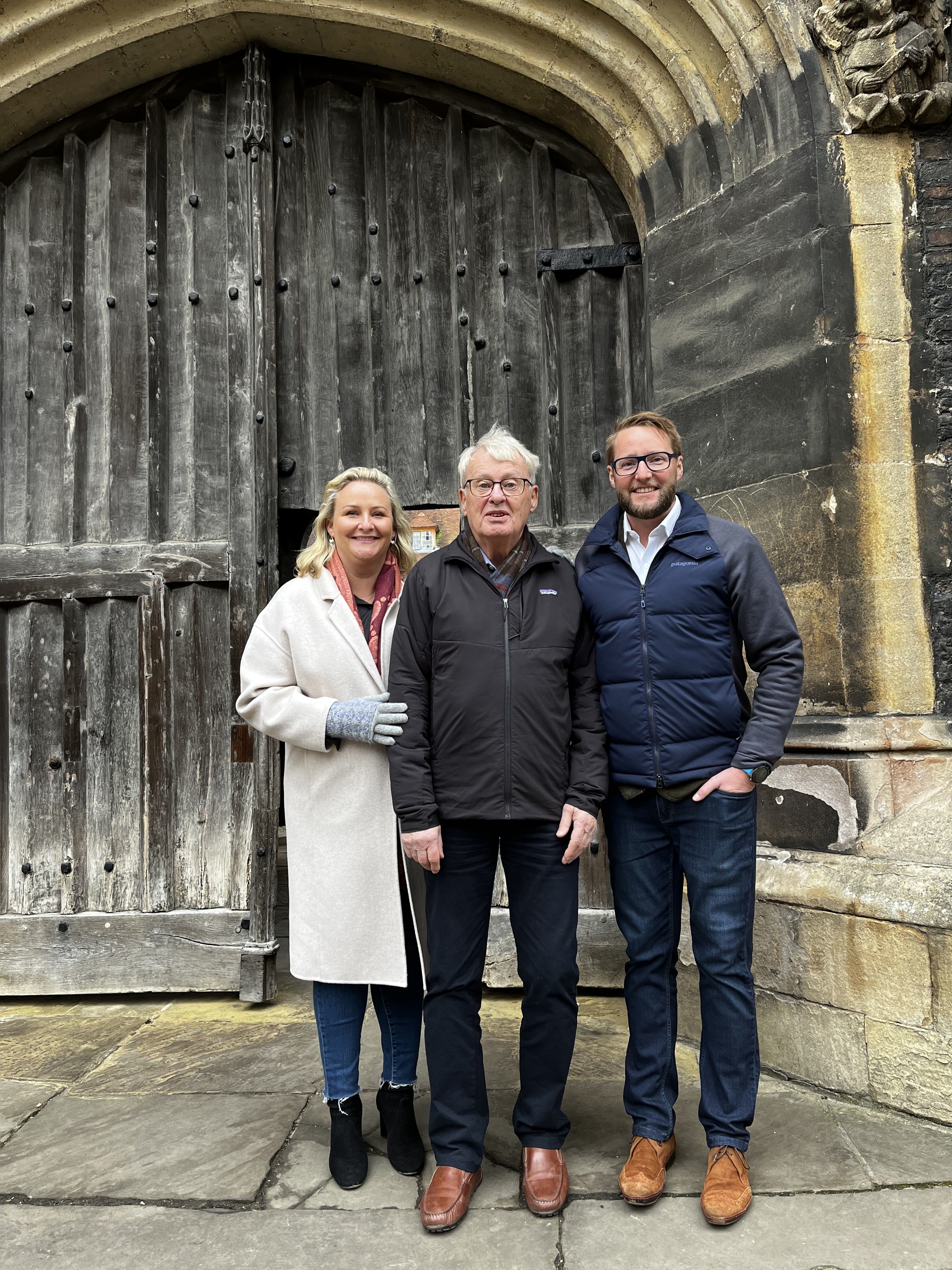 Queens' welcomed back Robert Cripps (Fellow Benefactor), Thomas Cripps and Amy Tennent (née Cripps) along with Catherine Thomas (Fellow Benefactor) and James Thomas on the 23rd February 2023. The philanthropy of both families has been transformative to the College and we were delighted to host them.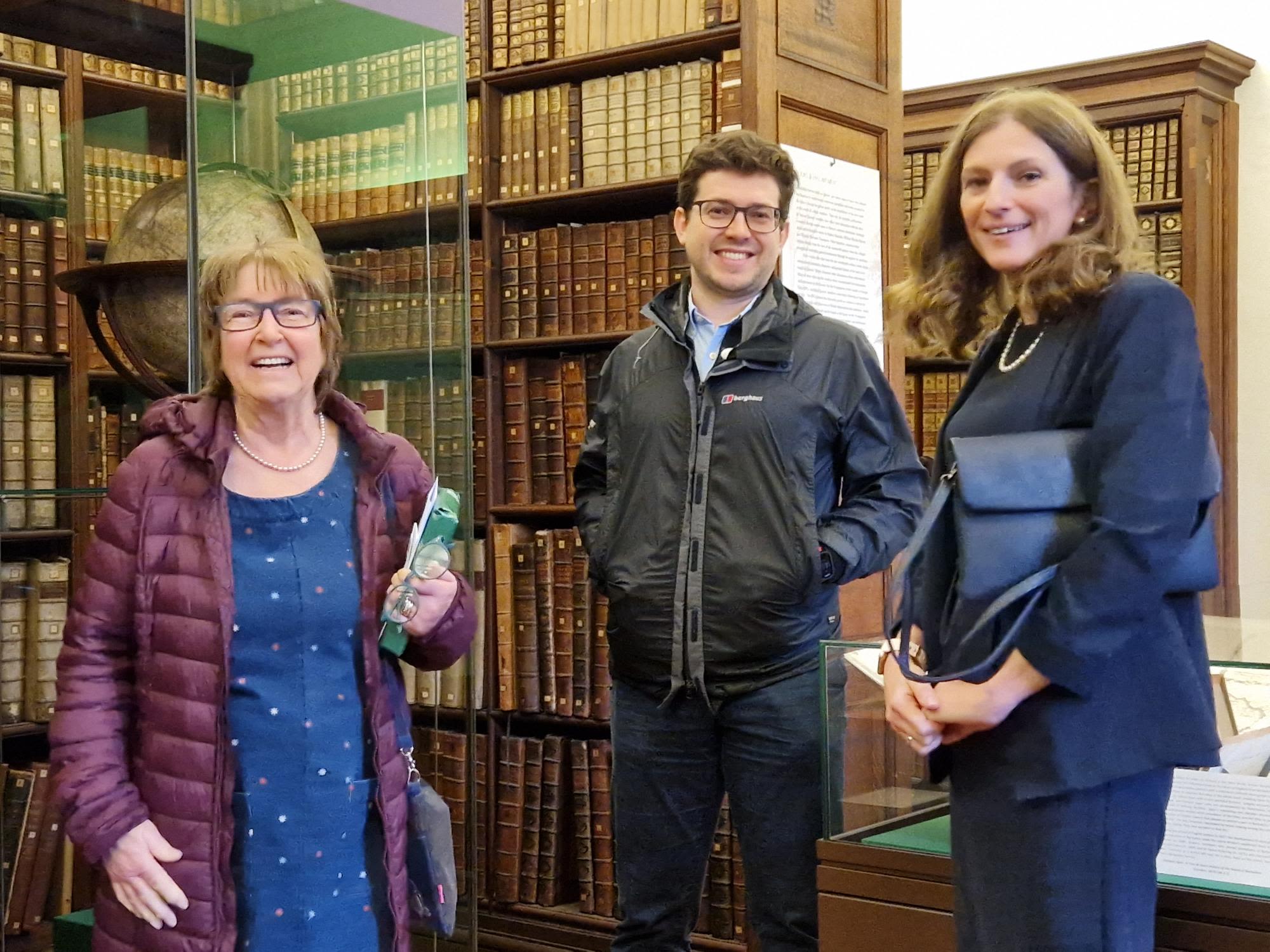 On this visit, our guests were welcomed by Development Director Rowan Kitt and Head of Development Francé Davies. They were given a tour led by the Domestic Bursar, Andy Bainbridge, covering Cripps Court, the Faith Centre, balcony and the Armitage Room. This was followed by lunch in the OSCR presided over by Prof Marie Edmonds, the Vice President. Fellows in attendance included Prof James Campbell, Prof Julia Gog OBE, Dr Robin Walker and Andy Bainbridge. The day finished with a tour of the Old Library via Old Hall.

Thanks to the benefaction of the Cripps Foundation, led by Sir Humphrey Cripps (Ex Honourary Fellow) and former President Sir Arthur Armitage, Cripps Court was erected as the largest building project at Queens'. The initial stages were finished between 1974 and 1983 and originally housed 171 student bedrooms. It not only provides onsite accommodation for undergraduate students, but also Fellows' Flats, the Dining Hall, and Health & Wellbeing Centre. The Foundation gave further support in 2007 when disabled access and the fourth floor were added. In October 2018, Robert Cripps was admitted as a Fellow Benefactor. At the same time, the Cripps Court inscription was unveiled. His last visit to Queens' was in July 2022.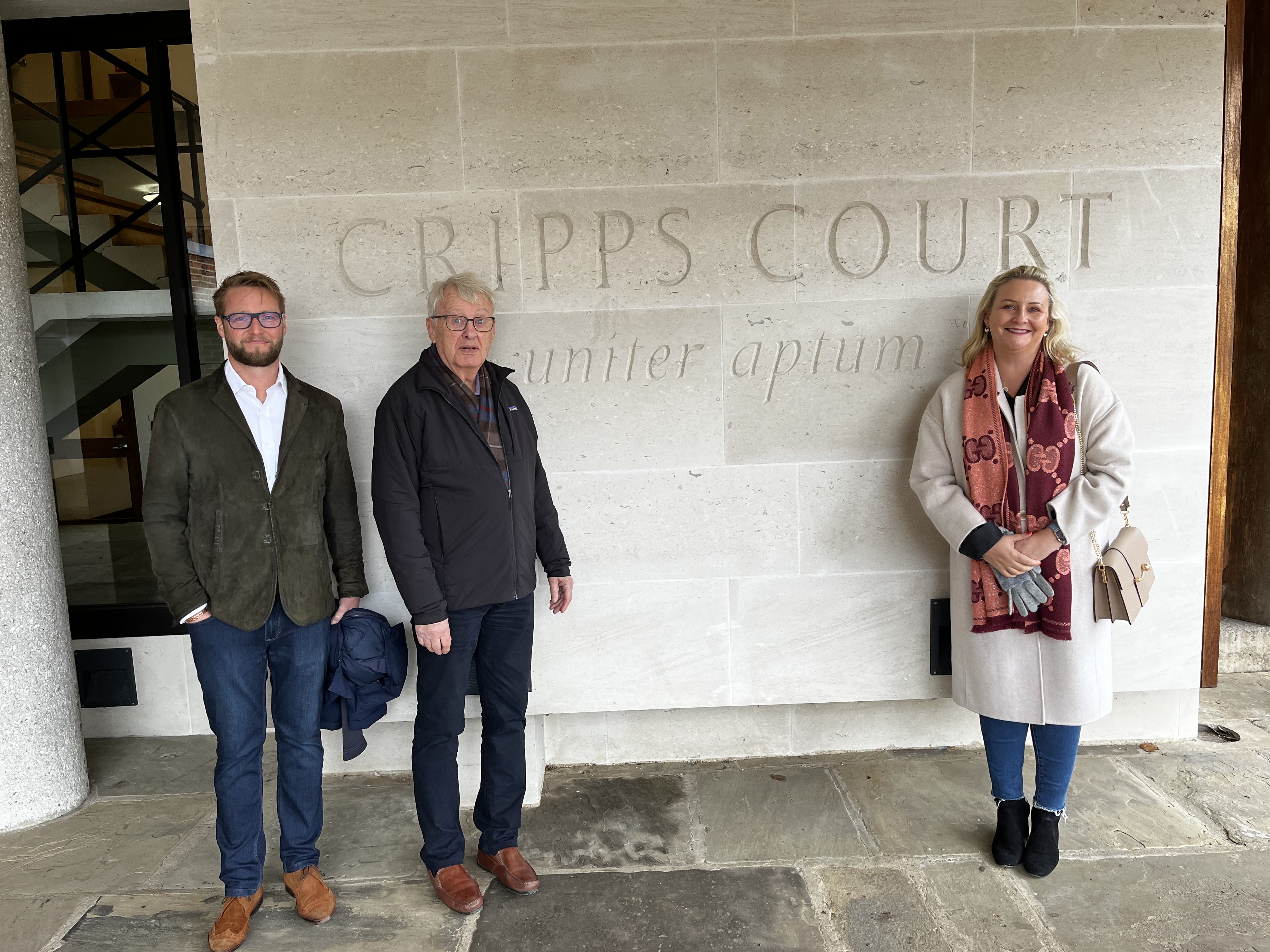 A highlight of the visit for Catherine and her son James was The Stephen Thomas Memorial Teaching & Research Centre. The Stephen Thomas Cambridge International Studentship was made possible by the generous endowment from friends of Stephen Thomas (1971).
Stephen obtained a double first from Cambridge and in his third year won the Ricardo Prize for Engineering. He was a generous supporter of Queens', an entrepreneur, a manager of high-growth companies and a business angel. Stephen passed away as a result of an accident in January 2005 in Antarctica the day after achieving his lifetime's ambition of sailing his yacht, Magic Dragon, from 80 degrees north to 65 degrees south.
We hope that the visit showed our visitors what an indelible impact their generosity has made on the College for future generations of students.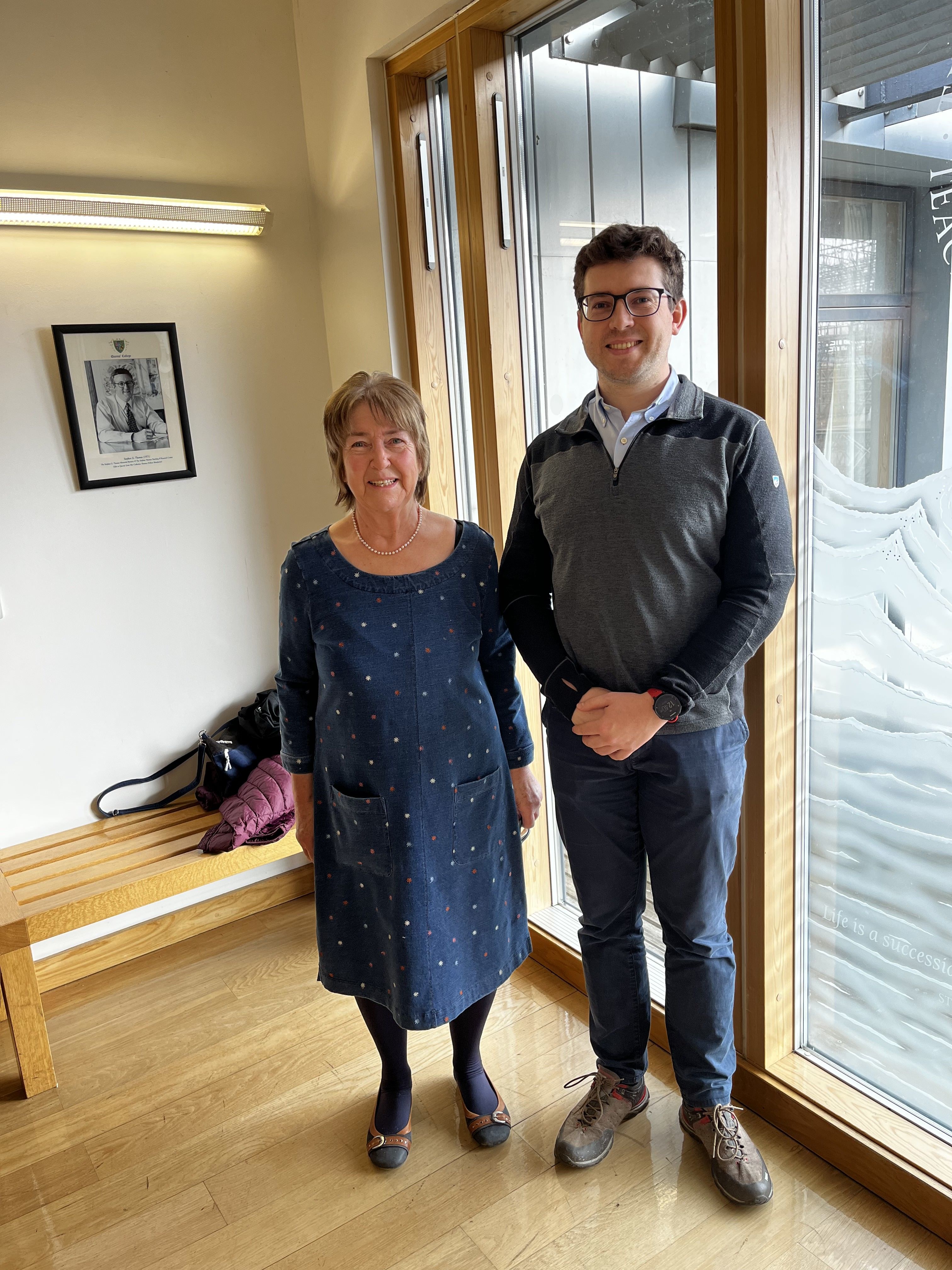 Catherine and James Thomas on the fourth floor of the Cripps Building in front of the photograph of Stephen that hangs there.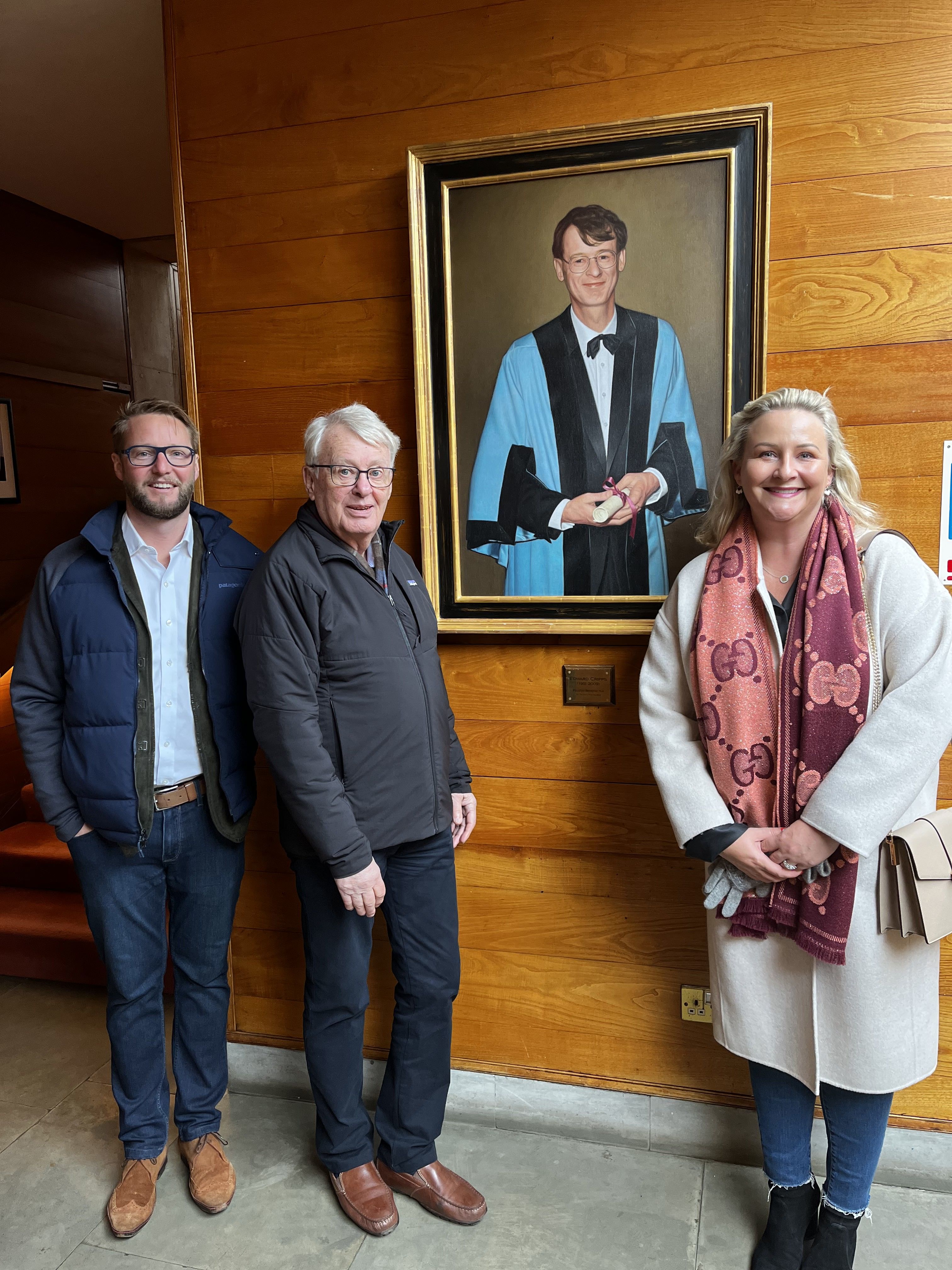 Thomas, Robert and Amy in front of the portrait of Edward Cripps