Marcus Hughes-Hallett
Boat-naming ceremony, October 2021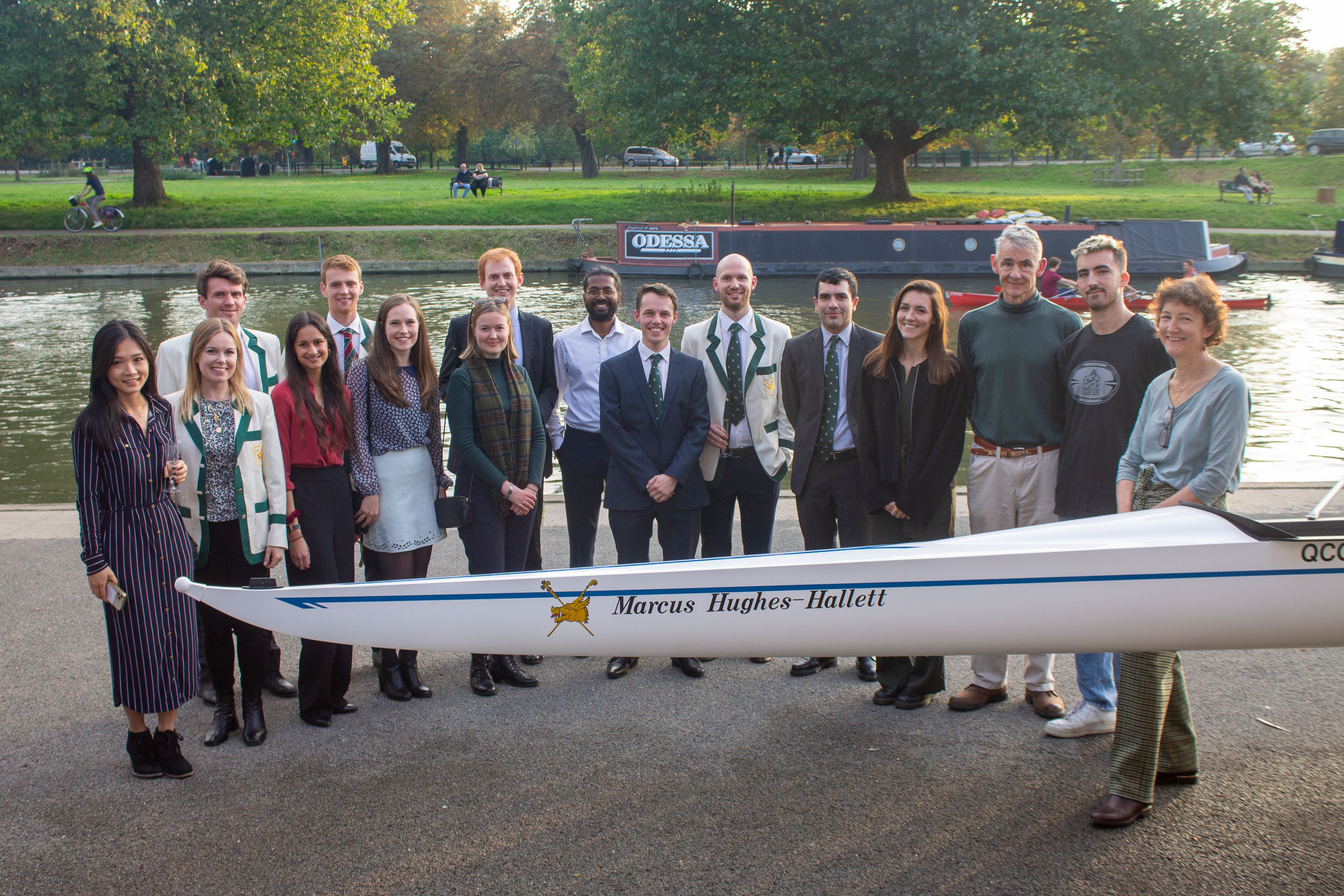 Credit: Lucy Kirkwood; @lucy.lens
Credit: Lucy Kirkwood; @lucy.lens
Launch of the new Marcus Hughes-Hallett boat
The new Men's 1st VIII boat has been named once more after Marcus Hughes-Hallett (2011) in a ceremony attended by his family and friends.
Marcus rowed for Queens' but died in 2012. The previous Men's Eight was also named after Marcus and the Boat Club decided to keep the name with the family's permission.
Speeches were made by the current President, Hannah Badger (2018), former Men's Captain, Freddie Markanday (2017), and Marcus's father, David, spoke movingly of how Marcus had enjoyed rowing for College.
The boat was then christened and blessed by the Chaplain, Rev. Max Bayliss, before it was taken out for its first outing by the M1 crew. The family and QCBC then enjoyed a reception in Old Hall in the evening.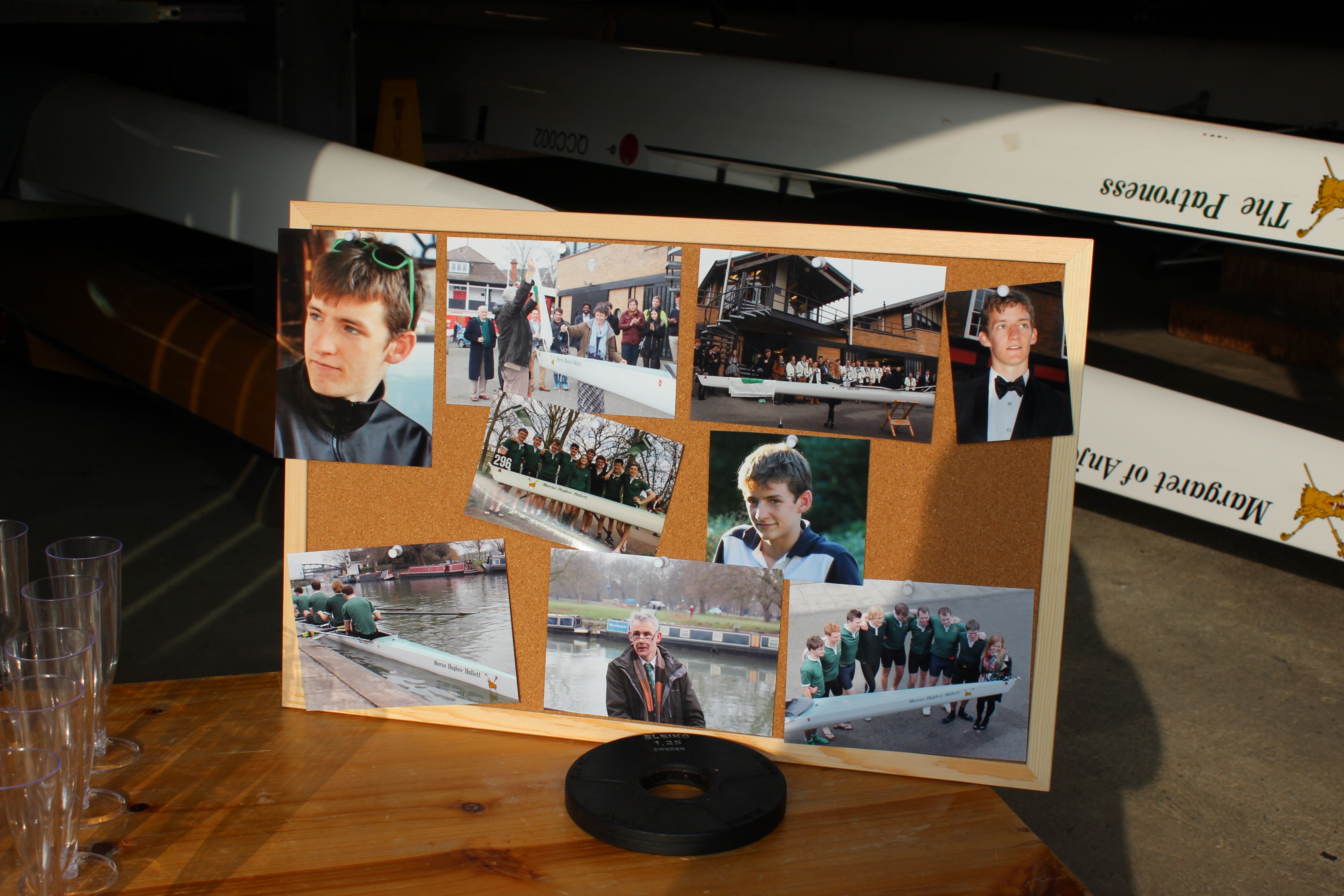 The first Marcus Hughes-Hallett can be seen here - click here to see the 2015 boat.
The Hughes-Hallett family have also generously added to The Marcus Ivan Hughes-Hallett Travel Award, providing extra funds to allow students to benefit from travelling abroad.
This Fund is for undergraduates wishing to travel abroad, whether to further their academic studies or to undertake voluntary work or other study.
The Marcus Hughes-Hallett
David and Kirsten Hughes-Hallett christening the new Eight.
After the speeches, the boat was lifted into the water for its first outing.
The M1 crew were the first to row, coxed by William Gill (2017).
The Crew (from left to right):
Cox: William Gill (2017)
Stroke: Alexander Miscampbell (2017)
7-seat: Fred Markanday (2017)
6-seat: Freddie Floydd (2019)
5-seat: Brett Taylor (2020)
4-seat: Charles Jameson (2018)
3-seat: Nicholas Budenburg (2018)
2-seat: Sam Amey (2017)
Bow: Varun Randery (2019)
More photos from the ceremony: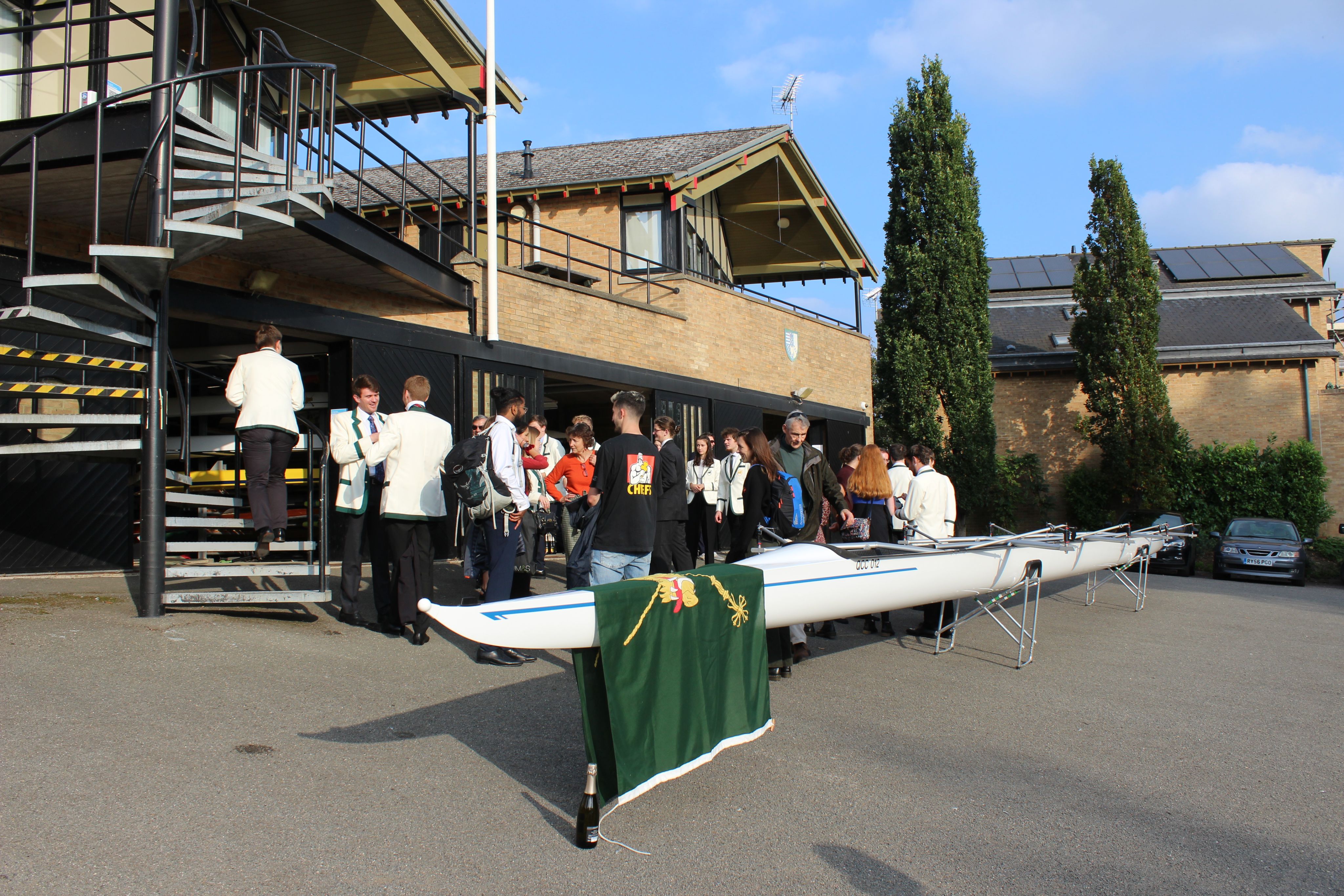 Everyone gathered at the Boathouse
Everyone gathered at the Boathouse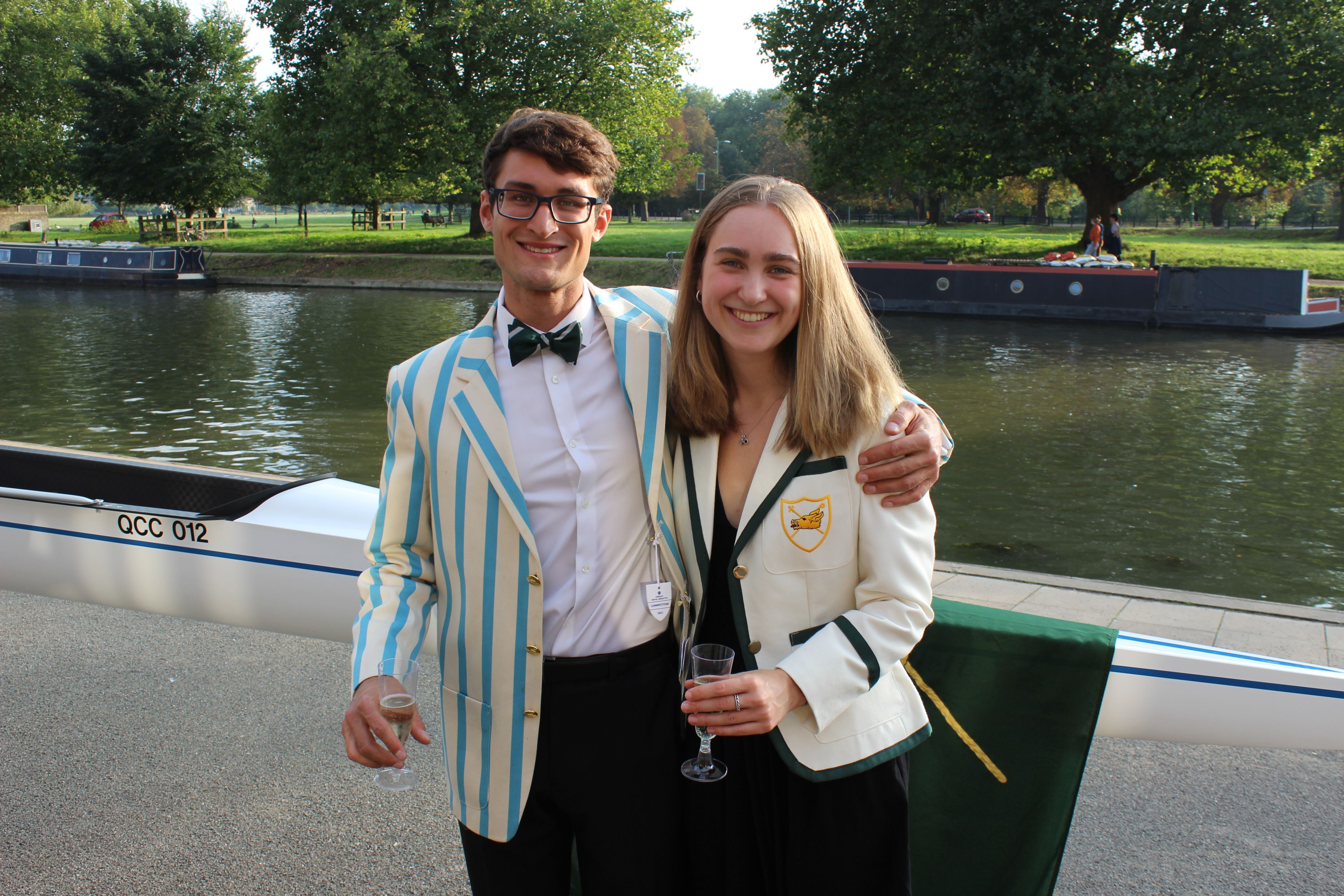 Freddie Markanday (former Men's Captain) & Hannah Badger (Captain)
Freddie Markanday (former Men's Captain) & Hannah Badger (Captain)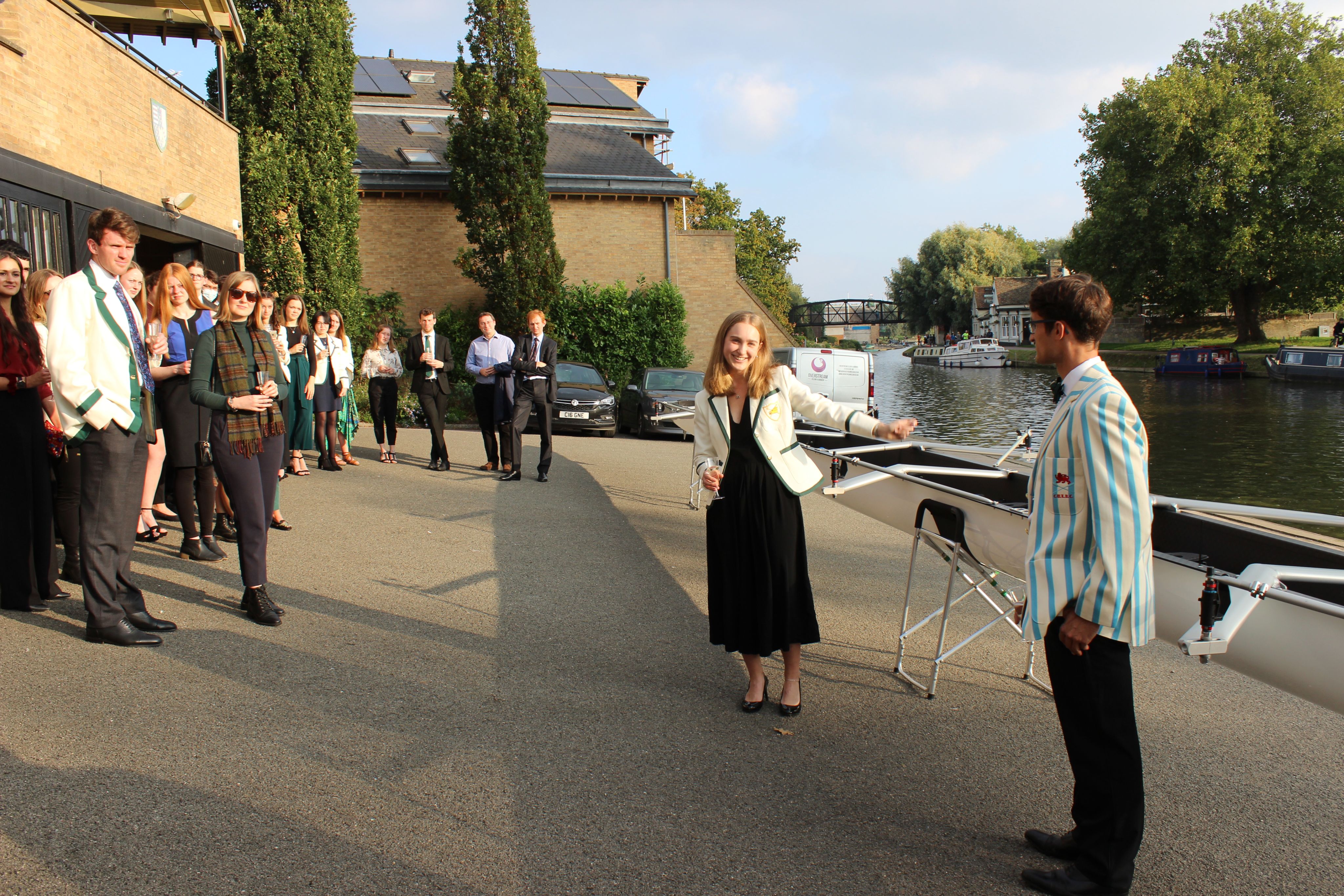 Speeches from Hannah and Freddie
Speeches from Hannah and Freddie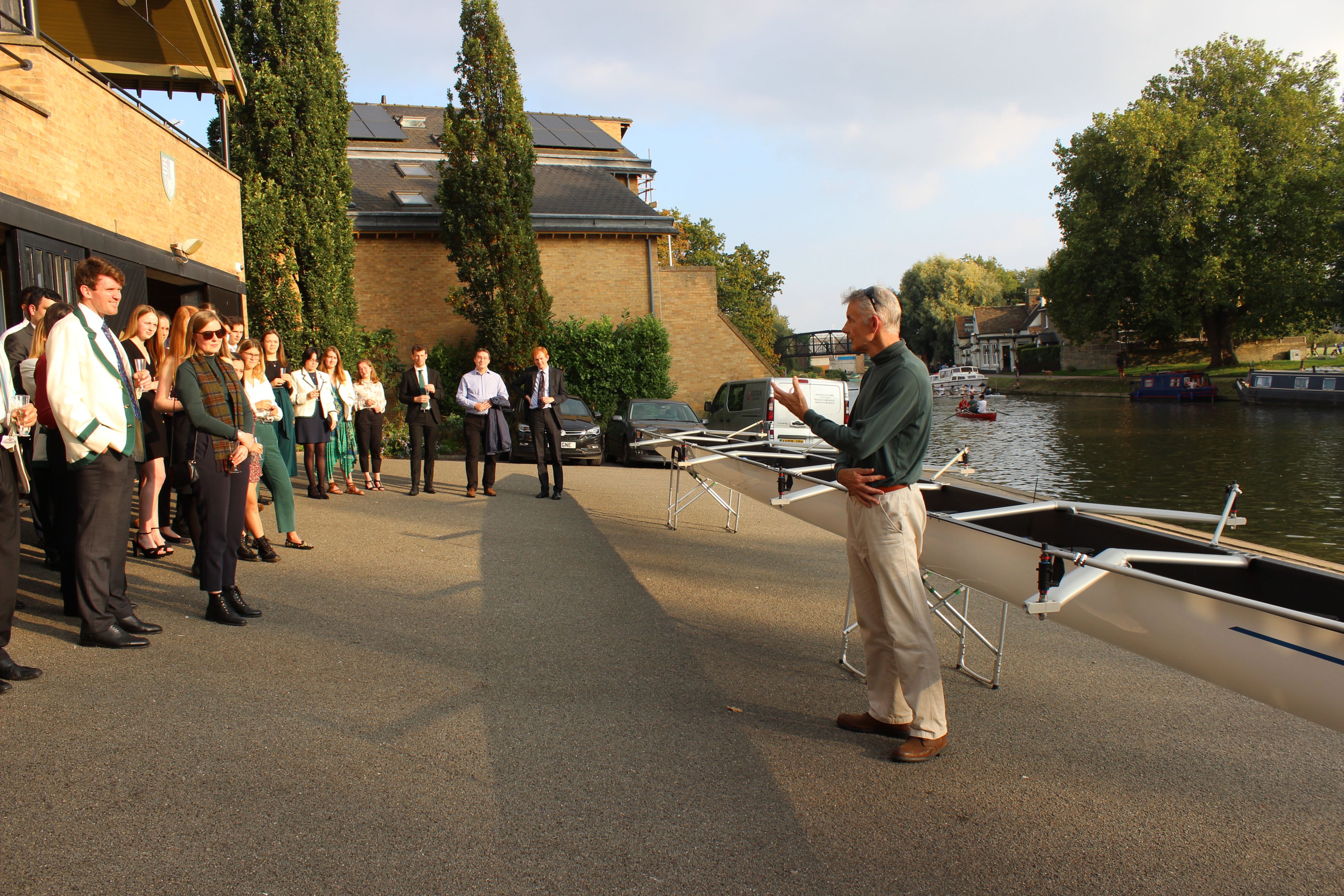 David Hughes-Hallett's speech
David Hughes-Hallett's speech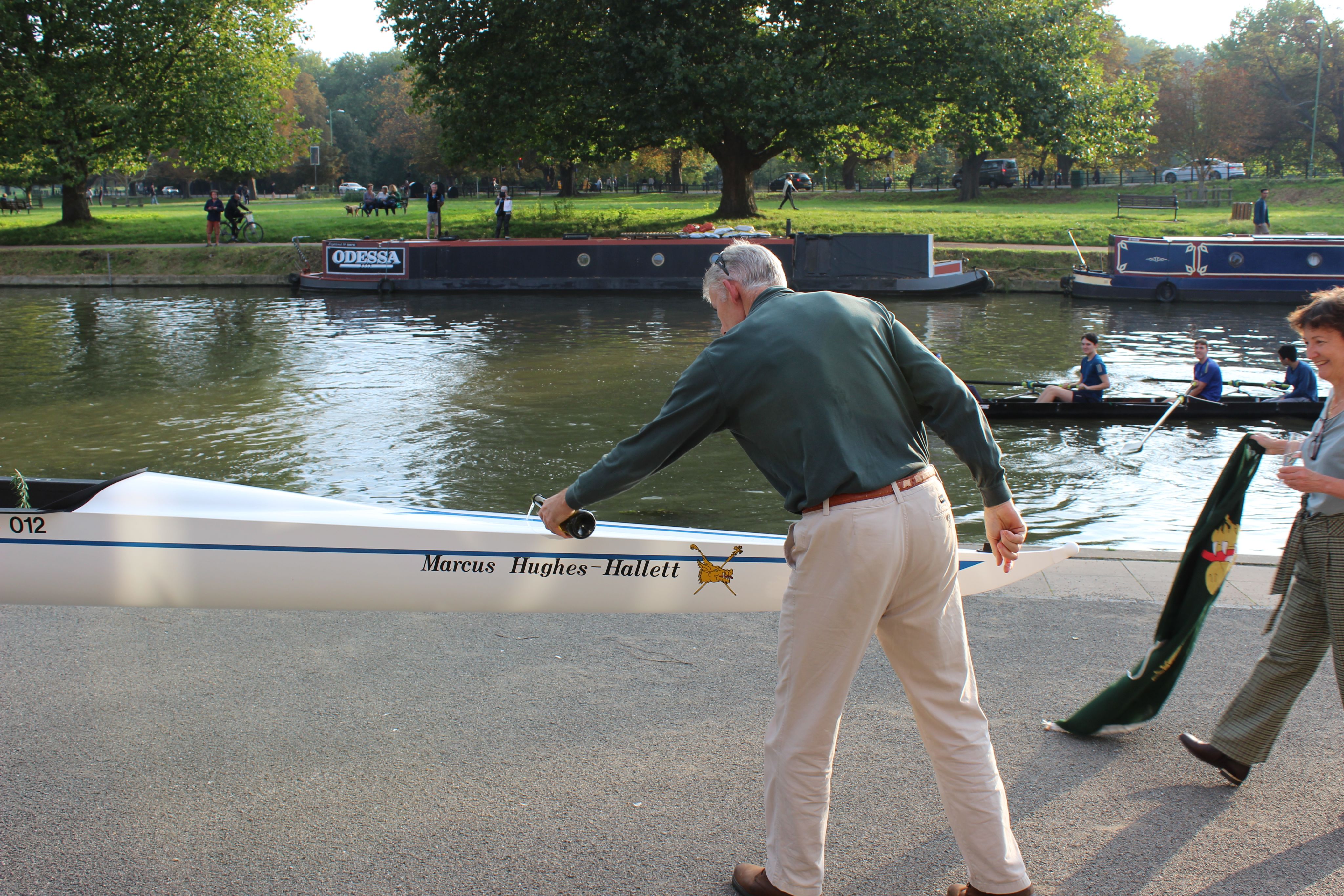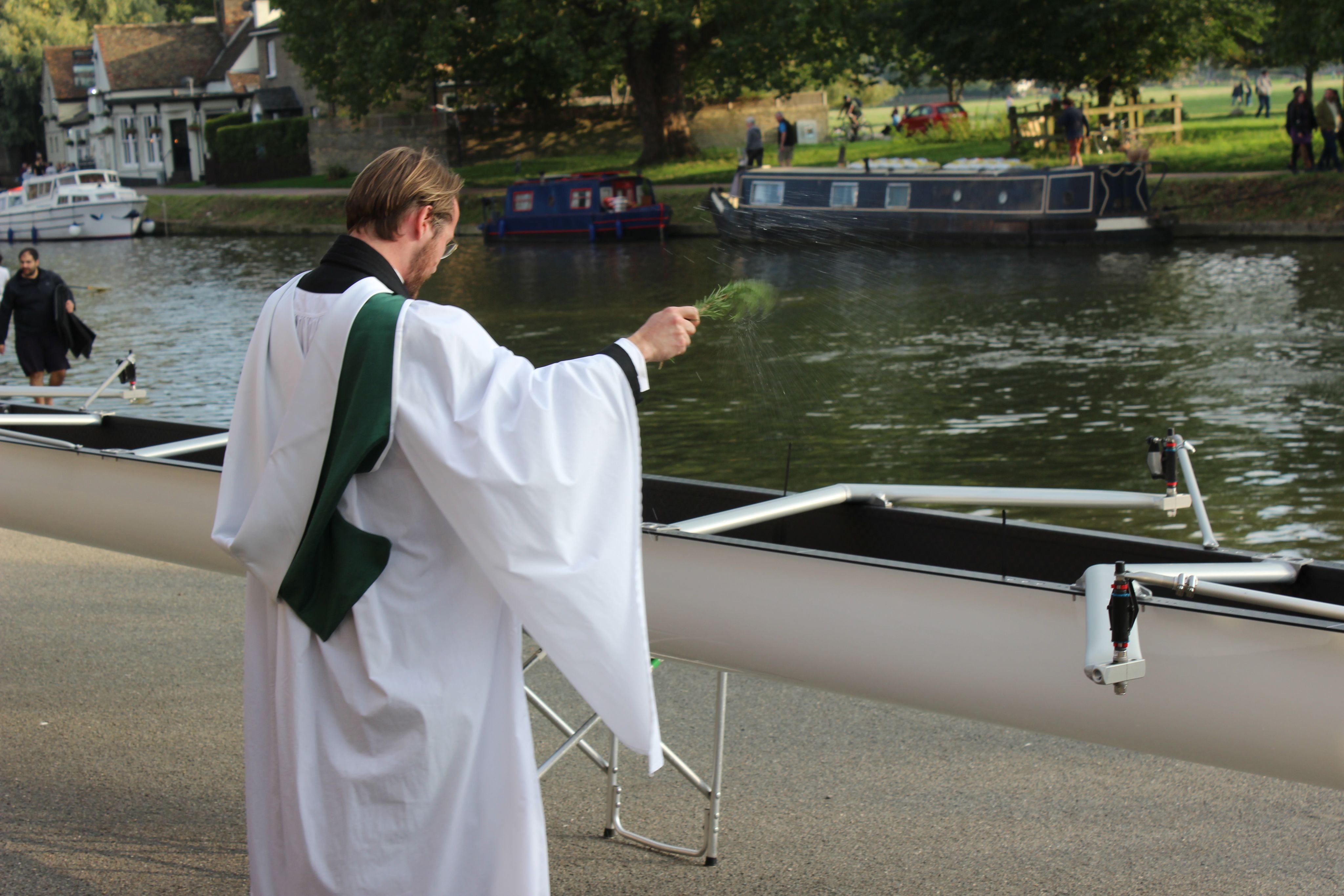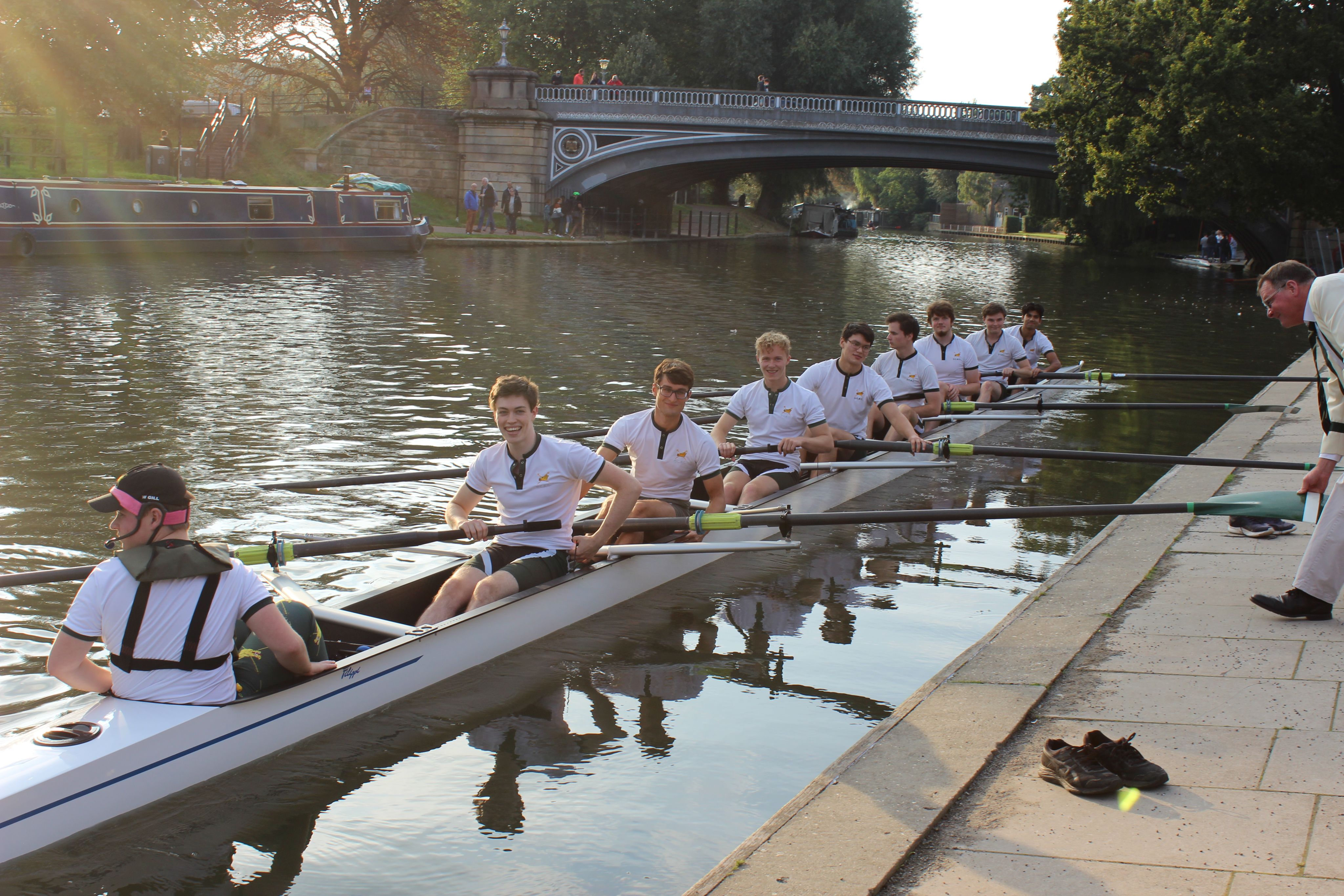 Item 1 of 7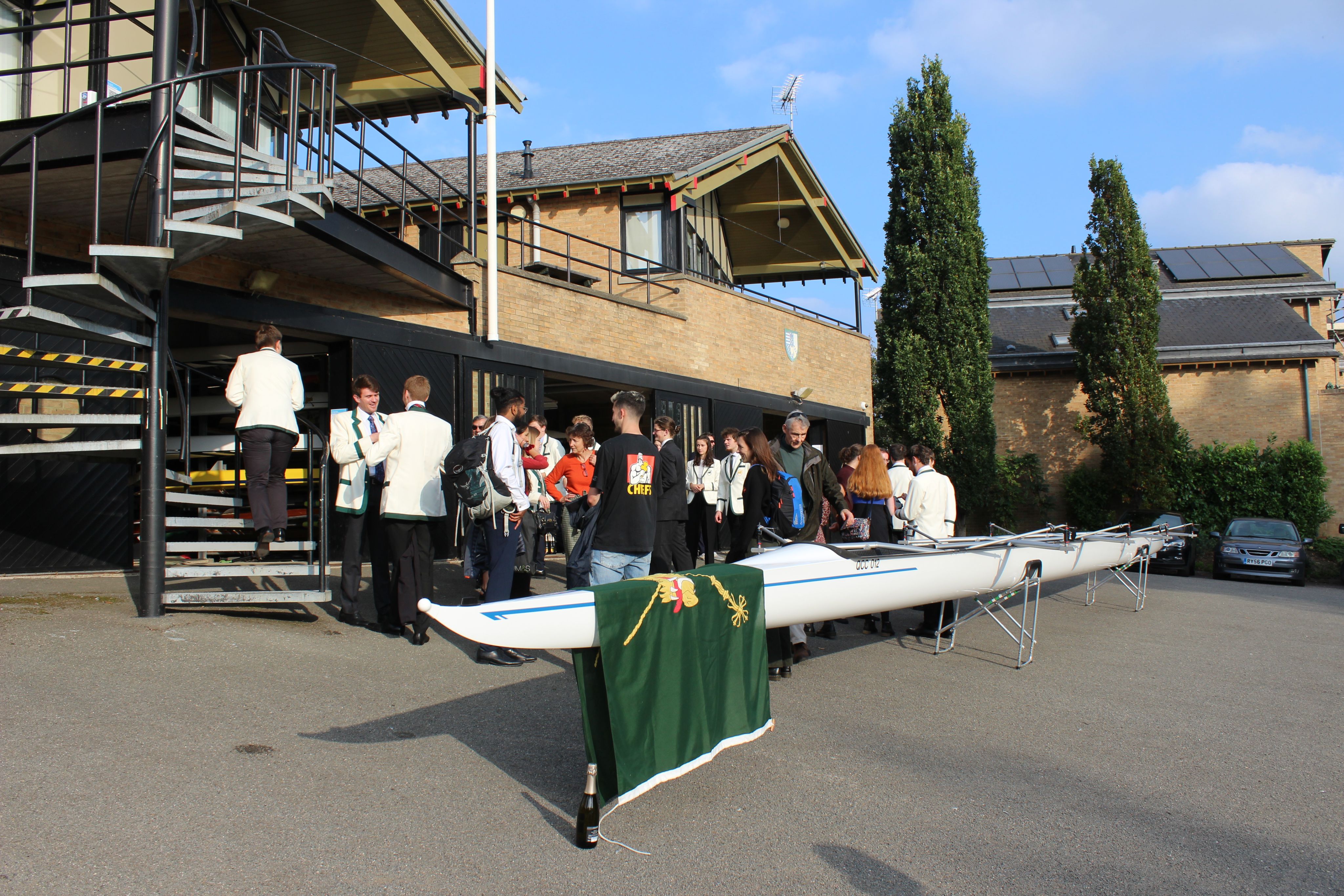 Everyone gathered at the Boathouse
Everyone gathered at the Boathouse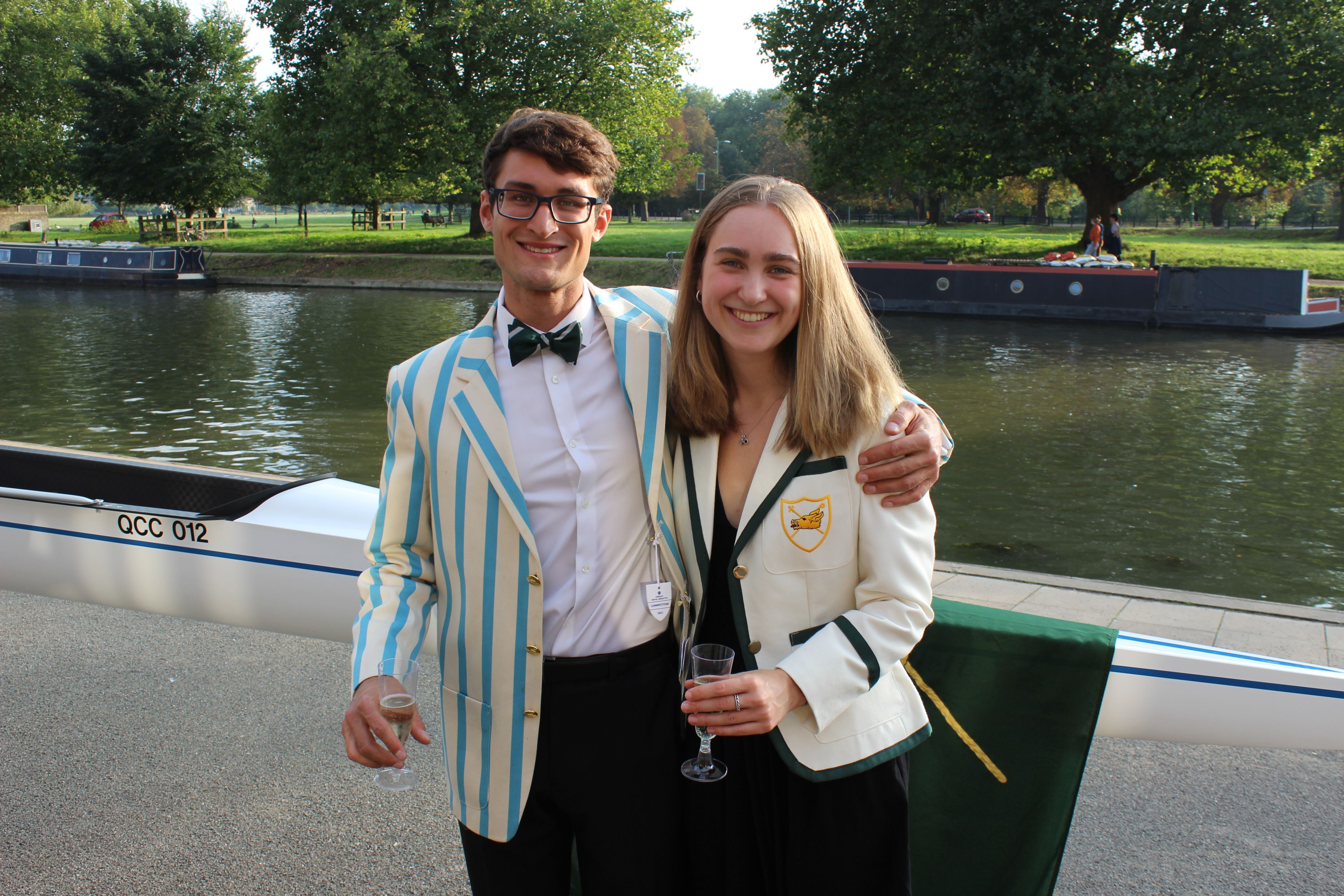 Freddie Markanday (former Men's Captain) & Hannah Badger (Captain)
Freddie Markanday (former Men's Captain) & Hannah Badger (Captain)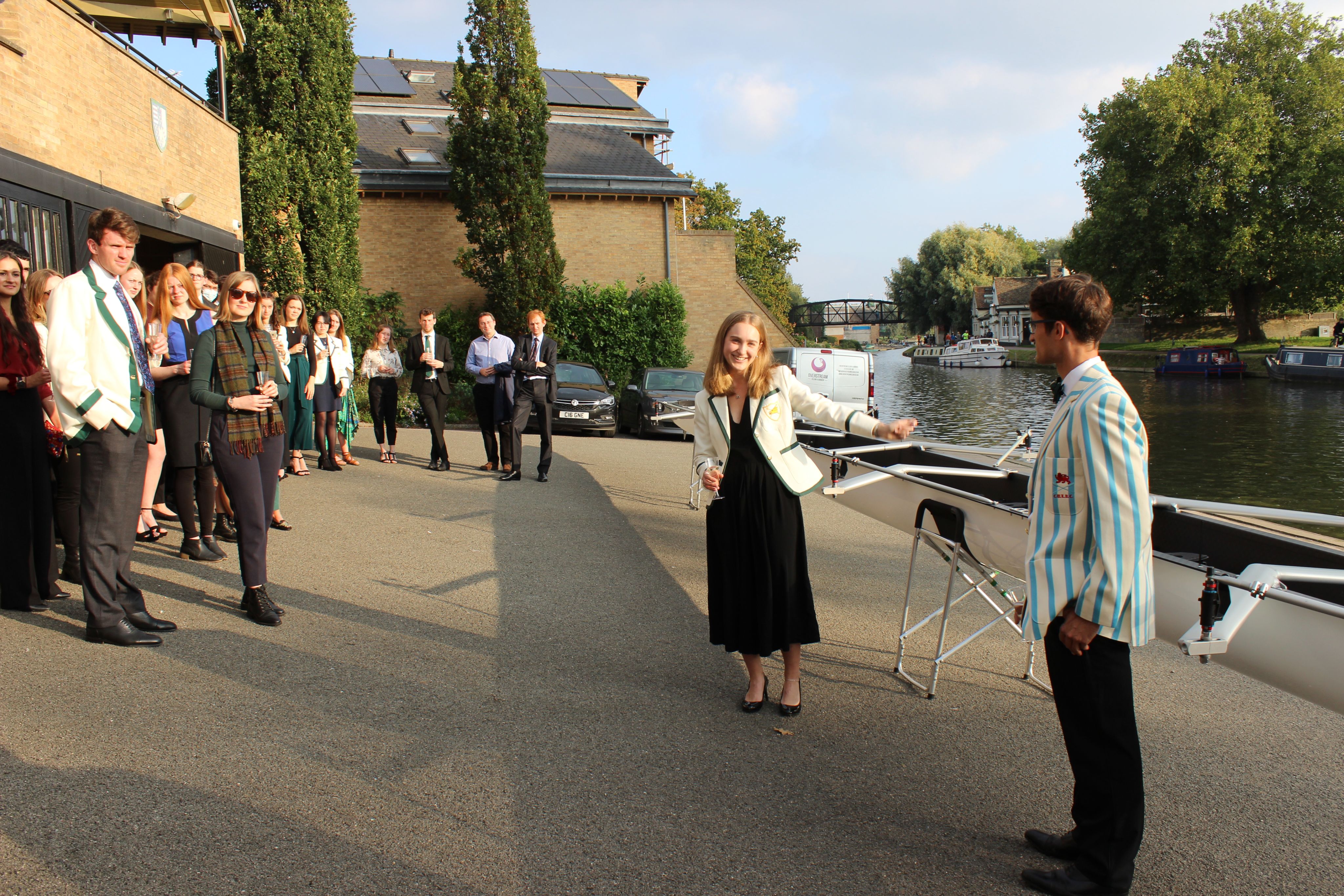 Speeches from Hannah and Freddie
Speeches from Hannah and Freddie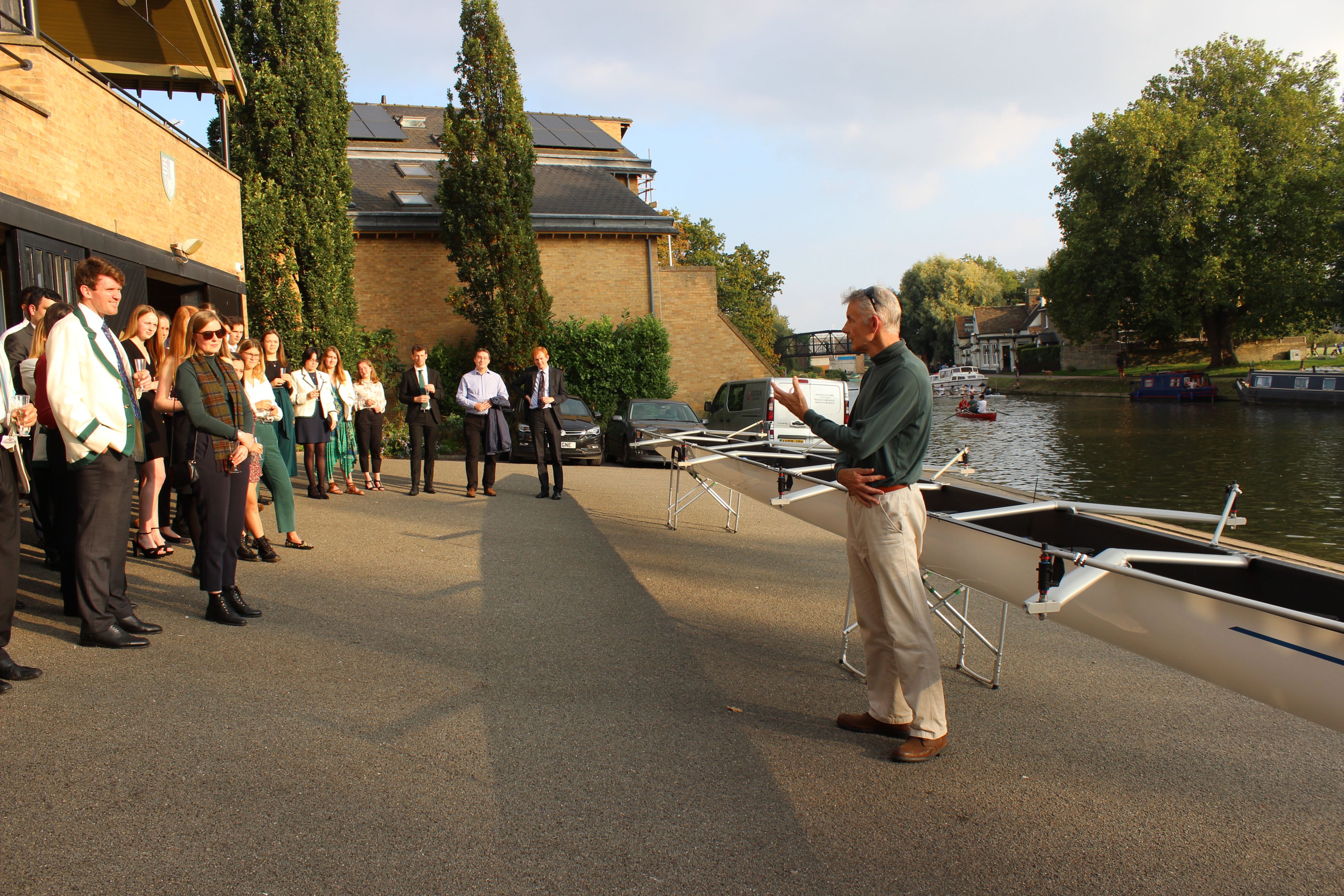 David Hughes-Hallett's speech
David Hughes-Hallett's speech