QErgs 2022
Queens' famous ergo competition took place once again on Sunday 6th November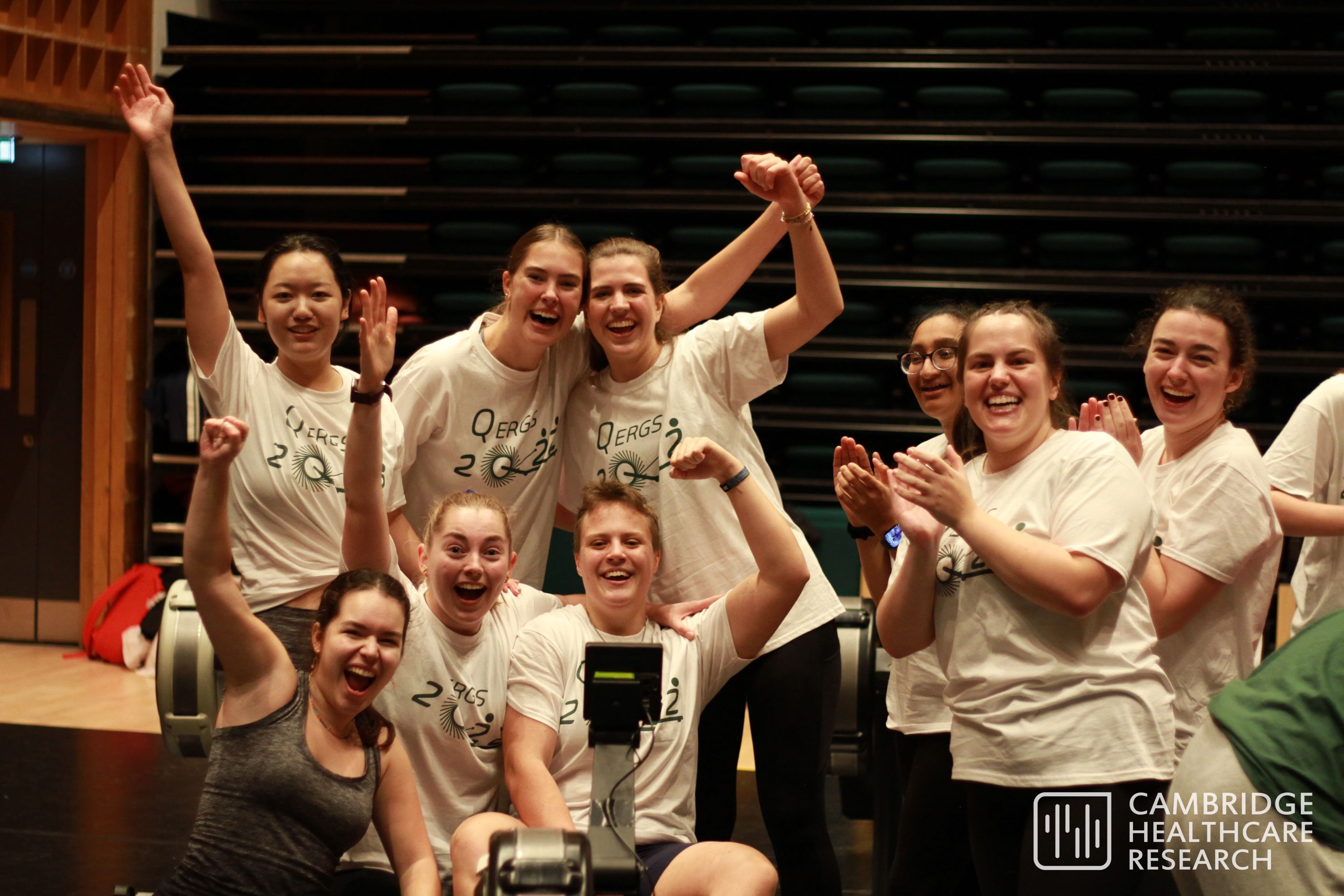 Queens' College Boat Club (QCBC) hosted QErgs again this year, hoping to build on the success of last year's event which took place outside due to COVID-19 restrictions. Since the annual event began, QErgs has become one of the largest indoor rowing competitions in Europe.
This year, the event took place in the Fitzpatrick Hall, with each crew completing an 8x500m sprint relay. Every Cambridge college was represented, in addition to Anglia Ruskin University - a total of 115 crews entered the competition. The atmosphere at the event was fiercely competitive, providing an excellent bonding experience for novice rowers and an introduction to Cambridge's inter-collegiate rivalries.
This year's QErgs was kindly sponsored by Cambridge Healthcare Research (CHR) and supported by B&together, the student-run non-profit with a mission to destigmatise mental health in Cambridge. Thanks to the generous sponsorship of CHR, profits slightly exceeded those from last year. A portion of the money raised was used to facilitate the free participation of East Anglia Youth Rowing (EAYR) in the event, and the rest will contribute towards the club's training camp, equipment and coaching.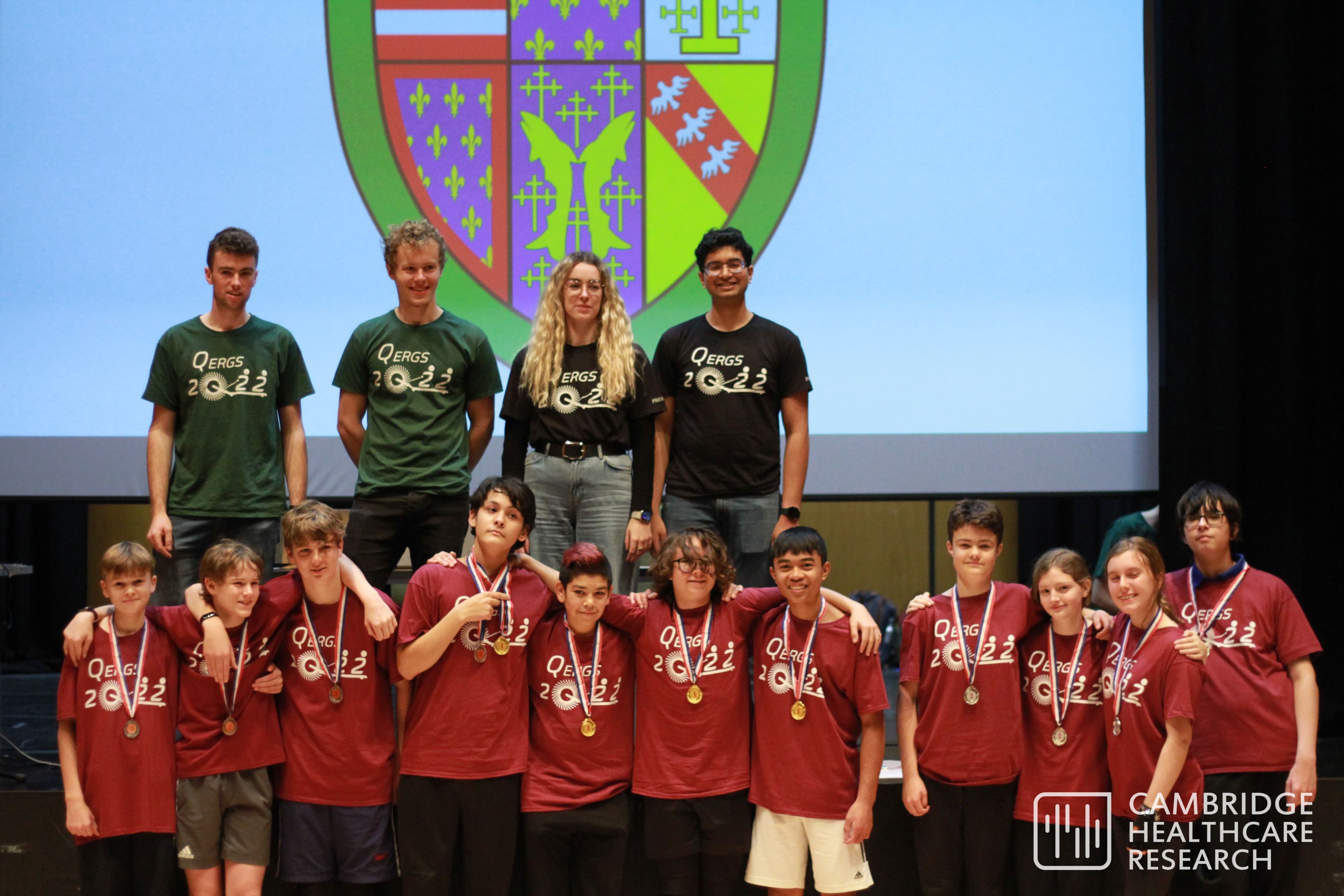 Congratulations to the winners of each division:
Division 1: Emmanuel NM1 (12:48.2)
Division 2: Trinity Hall NW1 (15:31.8)
Division 3: Jesus NM1 (12:48.9)
Division 4: Emmanuel NW1 (15:11.2)
Division 5: Caius NM1 (12:51.7)
Division 6: Queens' Emeralds (15:47.7)
Division 7: Jesus NM2 (13:58.4)
Division 8: Homerton/Hughes Hall NW (16:42.7)
Division 9: Queens' 1 (12:54.2)
Division 10: Petwards 1 (13:10.2)
Novice men's final: Jesus NM1 (12:38.3)
Novice women's final: Emmanuel NW1 (15:12.1)
Prizes were awarded to the fastest crews in each division.
Those who could not attend were able to watch the races virtually. The College & the Boat Club thank the alumni who sponsored QErgs last year and who have generously pledged to match QCBC's profits again this year.
Photos taken by Varun Randery, a fourth-year student at Queens'.
Queens' senior QErgs crew celebrating after winning their division!
One of the novice crew's cheers as the final rower completes their leg of the race.
Students watch the races from the balcony in the Fitzpatrick Hall.
One of the EAYR competitors from a local school in Cambridge is cheered on by his teammates.
Emmanuel NW1 celebrates after winning their division!
Jesus NW1 receive their prizes for winning the novice men's division!
Emmanuel NW1, the winners of the novice women's division, receive their prizes at the awards ceremony.
The EAYR competitors posing for a photo after completing their race!