Queens' Entrepreneurship Awards
QES Pitch Day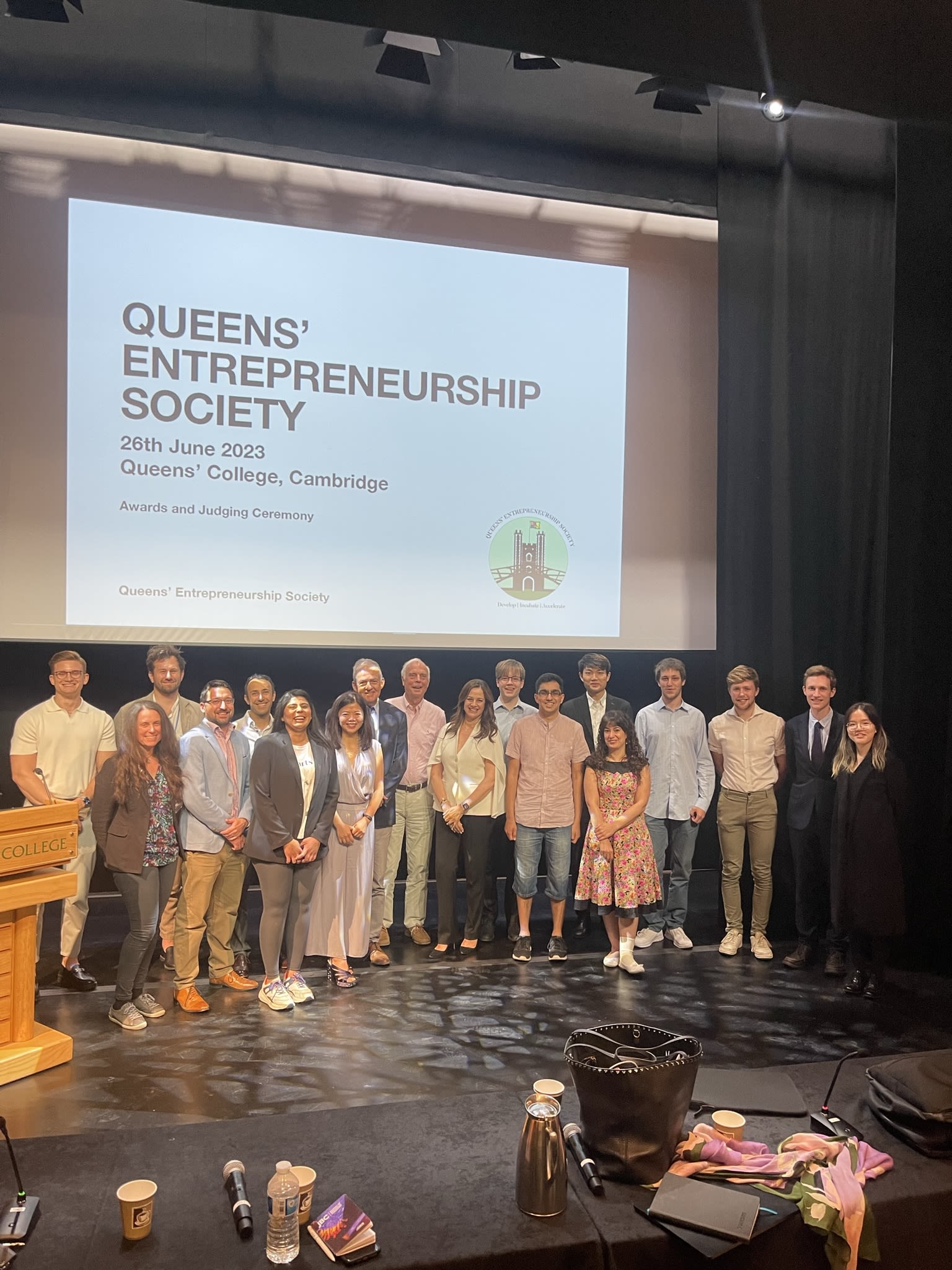 Queens' Entrepreneurship Society (QES) held their inaugural QES pitch day and awards ceremony on the 26th June. QES aims to nurture budding entrepreneurial talent within the College and help individuals to commercialize their research.
The QES competition received applications from teams of one to five students who each brought entirely novel business propositions to the table, ones that would be very likely to receive venture capital or business angel investment.
The event opened with a speech by Professor Clare Bryant, one of the Fellow founders of the Society, followed by a presentation by QES' Honorary Patron, Siraj Khaliq (1997), on entrepreneurship. He shared some of his expertise from his role as an adviser at Atomico and Co-Founder of The Climate Corporation.
"We'll always find reasons not to take a risk. We generally don't like being uncomfortable, but that's where change happens. Many potential entrepreneurs wait too long, sometimes looking for perfect information. In today's world, of course, if you wait too long, you may end up waiting forever."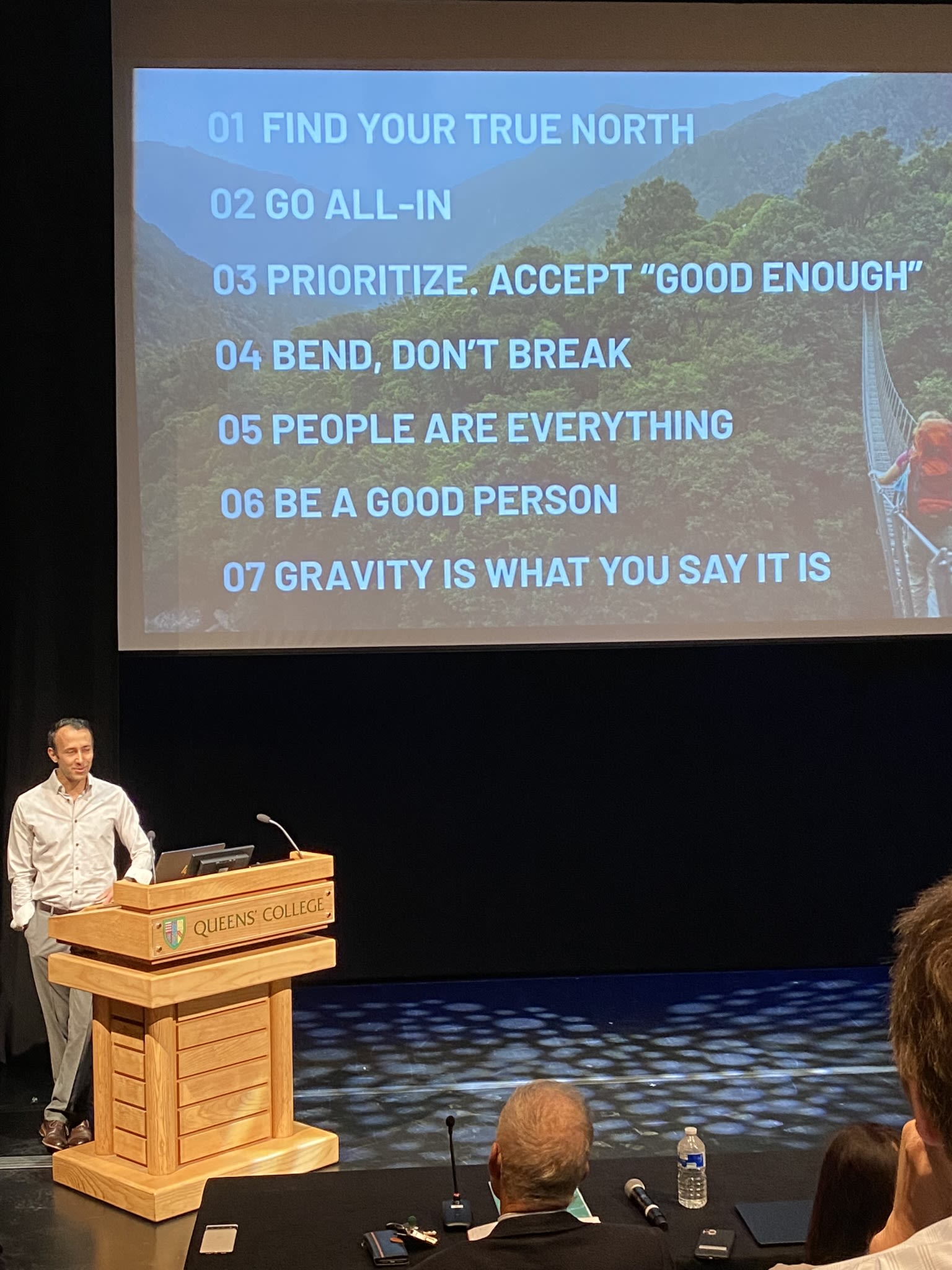 At 2pm, the shortlisted teams pitched their business ideas in a ten-minute presentation with a five-minute Q&A. Pitches were evaluated based on their clarity of market, their competitive position, their product or service reality, and the slides and pitch itself. The quality of the pitches was very high, making it difficult for the panel to select the best. Professor Bryant commented in her closing remarks that everyone was a winner for reaching the pitch stage.
The two teams that won the QES Prizes were:
Hear No Evil - Jack Peck and Gracie Zhou (2022)
Lykos Robotics - Dylan Moss (2020) and Harry Durham
Hear No Evil pitched their idea for specialist earplugs for musicians that would enable them to protect their hearing without affecting their performance. Unlike traditional methods of ear protection, these earplugs cancel out the bone-conducted sound for a well-balanced mix.
Lykos Robotics won the judges over with their pitch to create a humanoid robot which exactly mimics the human body to better perform tasks. Third-year undergraduates Dylan (Queens', Computer Science) and Harry Durham (Sidney Sussex, Engineering) spoke about their plans to create a dextrous and cost-effective robot hand and arm to rival others on the market.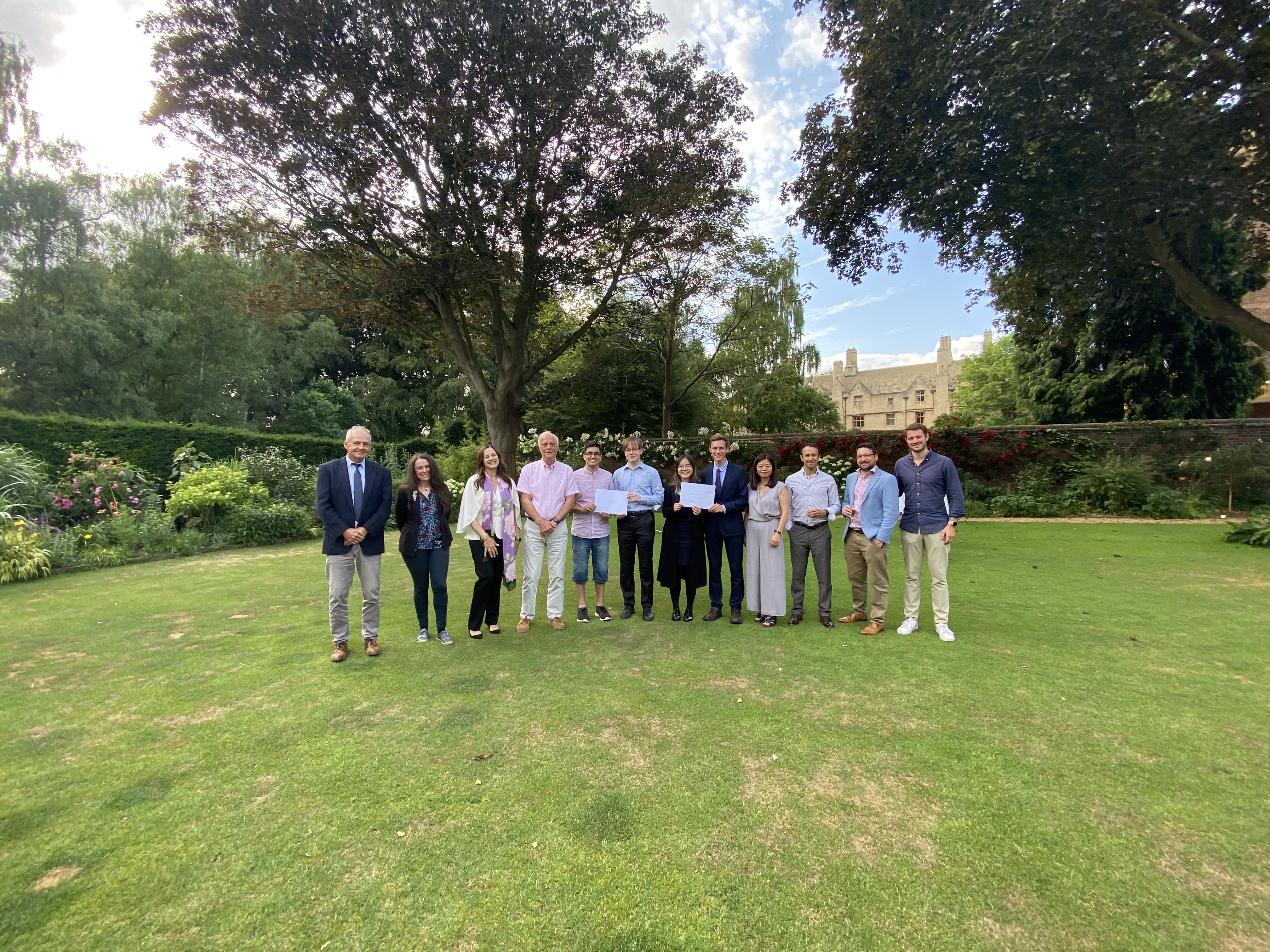 The College is grateful to Qun Yang (2019) and Richard Hargreaves (1964) for funding the two prizes. The popularity of the competition means that it will be running again next year. The deadline for this round of applications will be at the end of Michaelmas Term 2023. The Society's programme of talks and events will also continue next year. To find out the latest from QES, visit their website.
The College is also awarding The Melete Scholarships, an initiative by Sir John Chisholm (1965) and Lady Kitty Chisholm, who founded the Melete Foundation for social innovation. The Scholarships reward social entrepreneurship and business ideas that have the potential to create high-impact and sustainable social benefit.
Due to the exceptional quality of pitches, the Melete Foundation awarded Melete Scholarships to five students: Joshua Bird, Jun Jiang, Terrence Ng , Thomas Yam and Tomi Akingbade.