Queen Elizabeth II and her Patronage at Queens' College

The Foundress and first patronesses
Margaret of Anjou was the Foundress and first patroness of Queens' College. She issued her Charter to establish the Queen's College of St Margaret and St Bernard on 15 April 1448, the same day as the foundation stone was laid by her chamberlain.
Elizabeth Woodville was the first child of Sir Richard Woodville (later the first Earl Rivers) and Jaquetta of Luxembourg. She secretly married King Edward IV of England in April 1464, and was crowned Queen in May 1465. Two months earlier she had become patroness of the College "as true foundress by right of succession." She gave the College its first Statutes in 1475.
Queen Elizabeth, the Queen Mother
Elizabeth Bowes-Lyon, wife of King George VI of England, became Patroness of Queens' College in 1948 to mark the quincentenary of the College's foundation. After the death of the king in 1952, she became known as "Queen Elizabeth the Queen Mother". She visited the College on many occasions as patroness and particularly in 1998 to mark the 550th anniversary of the foundation of Queens'.
She died on 30 March 2002. The College held a memorial service for the Queen Mother on Sunday 28 April, 2002.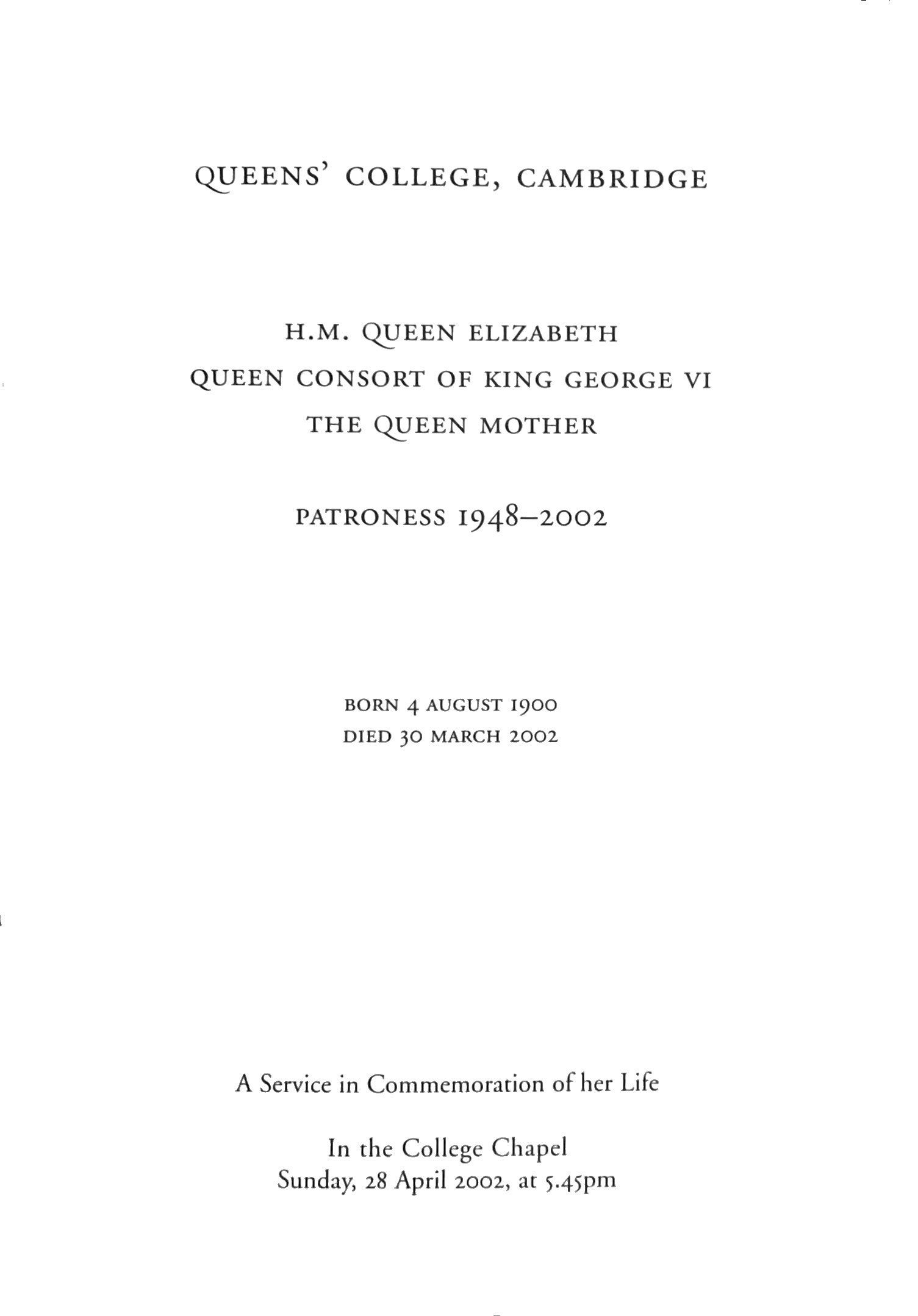 Her Majesty Queen Elizabeth II
Queen Elizabeth II accepted the role of Patroness of Queens' College in 2003.
She previously visited the College in 2005 and was accompanied by The Duke of Edinburgh who, at that time, was the Chancellor of the University. More recently she visited the College in 2019, as part of her tour when opening the new Royal Papworth Hospital in Cambridge.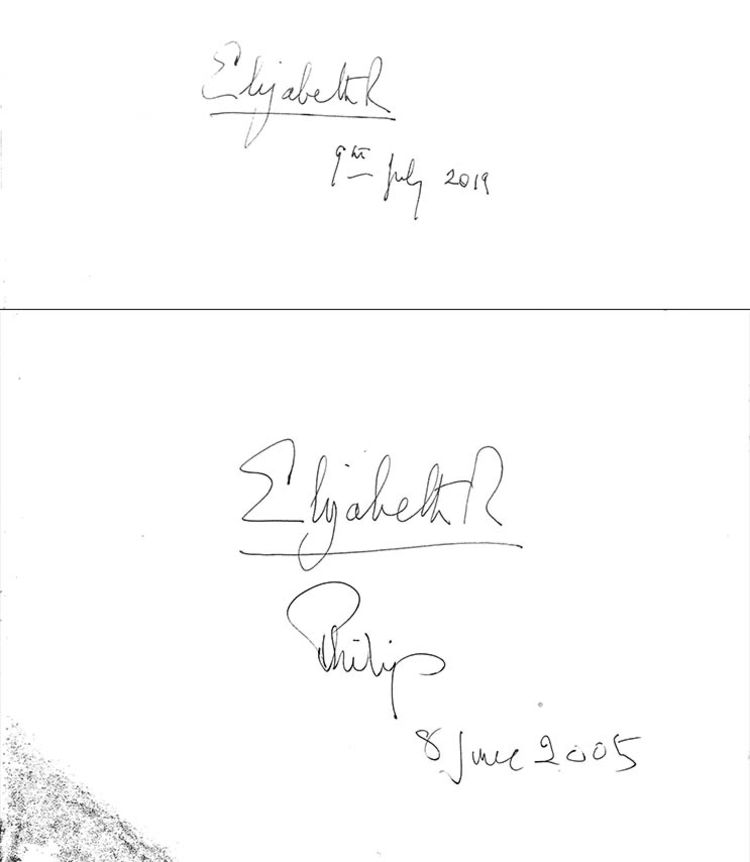 Platinum Jubilee 2022
Queens' College celebrated, along with the rest of the country and Commonwealth, Her Majesty's Platinum Jubilee weekend from 2 June 2022 - 5 June 2022.
On Thursday 2 June, Queens' hosted a series of events in honour of the patroness. These included a special tree-planting ceremony with the President, in the Fellows' Garden, a Jubilee themed Evensong in the Chapel, and a formal dinner for students, fellows and alumni to commemorate Her Majesty's reign and service.
The College also sent a letter of well wishes to Her Majesty, congratulating her on such a remarkable occasion.
Death and funeral of Queen Elizabeth II
Buckingham Palace announced the death of Her Majesty Queen Elizabeth II on 8 September 2022. Her state funeral was scheduled for Monday 19 September 2022. Queens' College President, Mohamed El-Erian, was invited to the funeral to represent the College as one of Her Majesty's Patronages.
Queens' also held a service in College to honour the memory of Queen Elizabeth II, and to offer prayers and support to His Majesty King Charles III at this difficult time.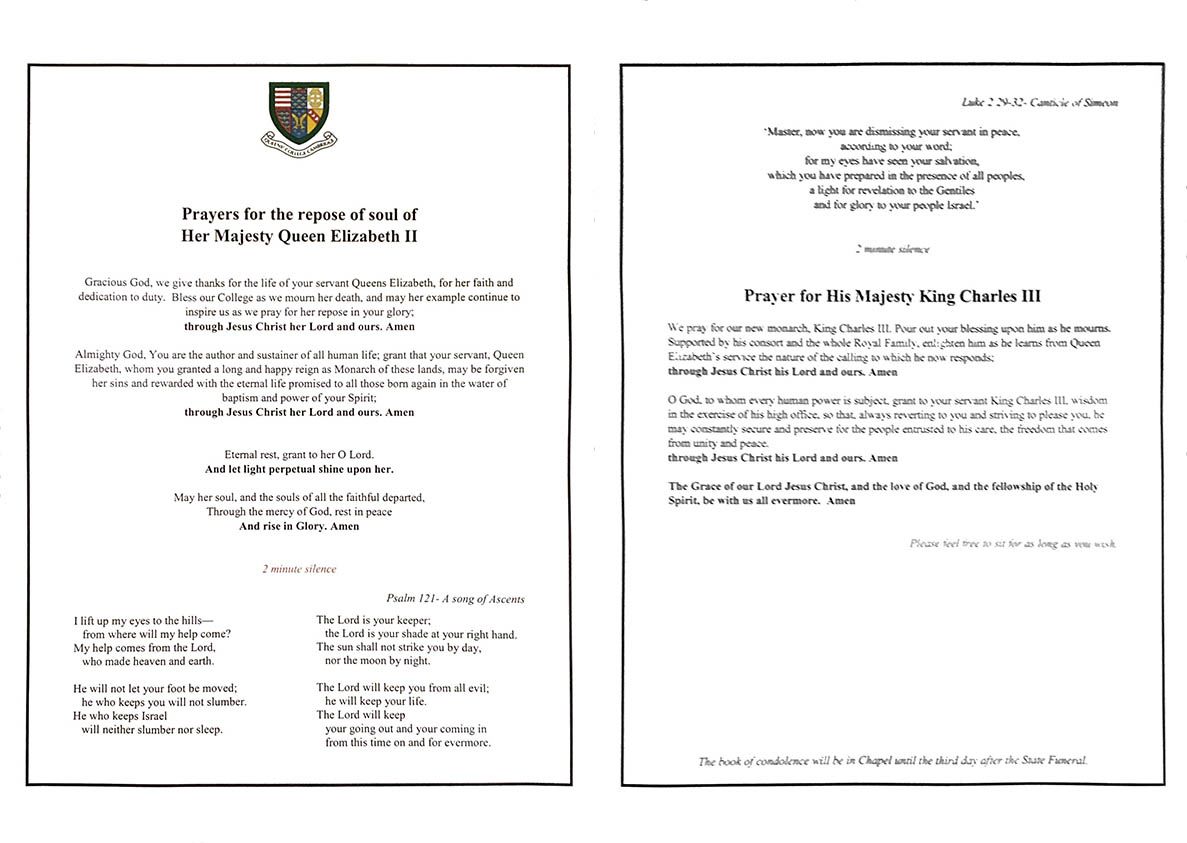 Queens' College public statement on the death of our patroness, Queen Elizabeth II
It is with profound sadness that we heard the news of the death of Her Majesty The Queen today.

In addition to her extraordinarily inspirational leadership of the United Kingdom and the Commonwealth for over seven decades, Her Majesty has been the beloved Patroness of our College since 2003 when she followed The Queen Mother in accepting the role.

Having visited the College several times over the years, including most recently in 2019, The Queen encouraged and inspired several generations of students, staff and Fellows. She always enquired about the wellbeing of our community, interacting in an engaging manner with the many that welcomed her to Queens'.

At this extremely sad time, we join very many millions of others in the UK and across the world in expressing our deep condolences to the Royal Family. We extend our thoughts and prayers to her family as we all mourn an exemplary monarch whose monumental reign has served, and will long serve, as an inspiration for so many around the world.

We offer our deepest gratitude to Her Majesty for her exceptional service to the United Kingdom and the Commonwealth, and for her dedicated strong support of our College.

Mohamed A. El-Erian
President