Tyro Music Prize Winner 2022
Parth Deshpande has been announced as the winner of the Queens' Tyro Music Prize for novice musicians.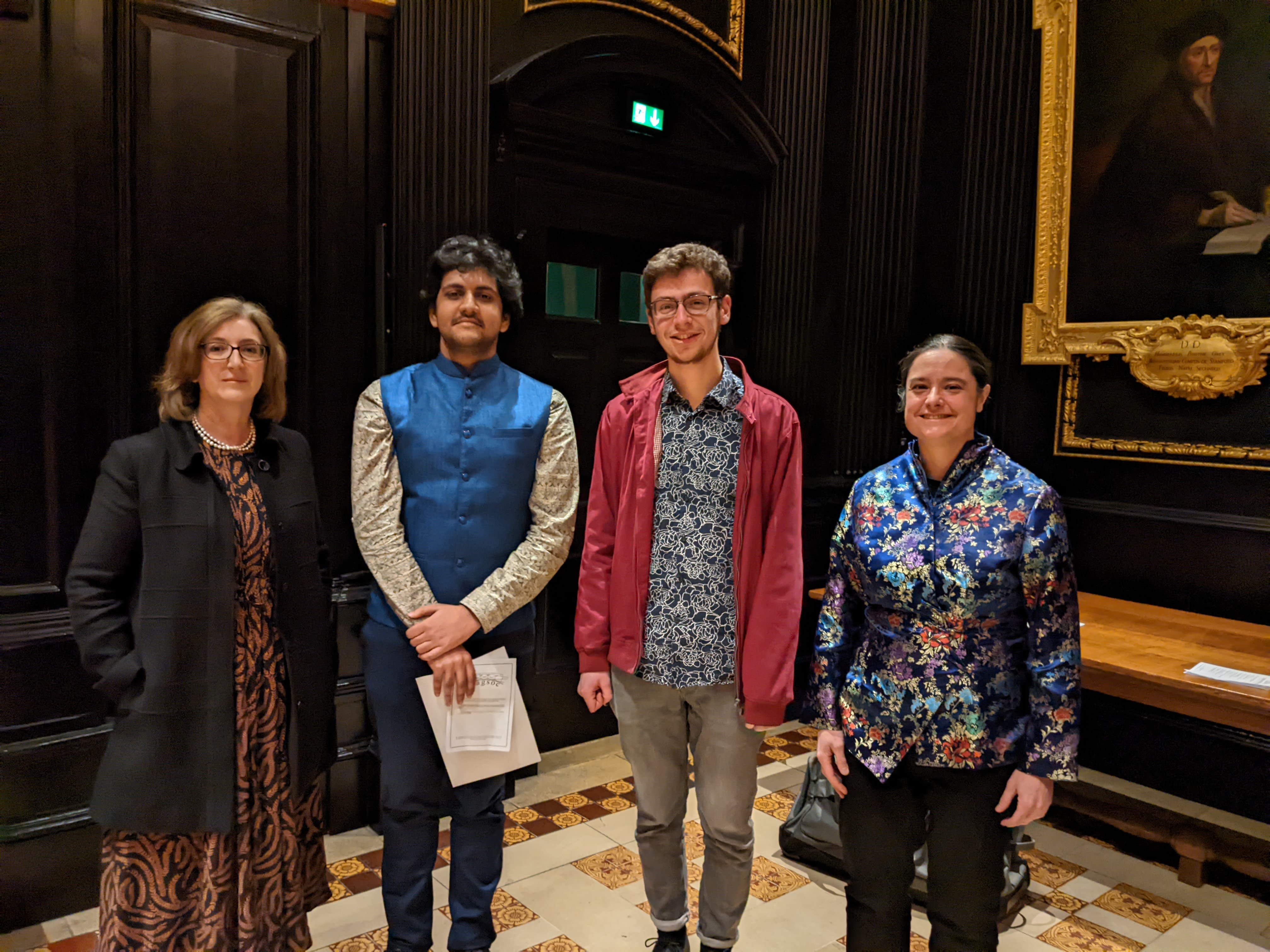 Dr Janet Maguire, Parth Deshpande, Noah Jay and Prof. Julia Gog
Dr Janet Maguire, Parth Deshpande, Noah Jay and Prof. Julia Gog
Novice musicians performed in Old Hall this week for a chance to win £100 for The Tyro Music Prize. We saw a range of performances, from pianists to guitarists, singers to violinists, and even tabla players (Indian twin hand drums).
The judging panel for this year's prize was: Dr Janet Maguire (Fellow), Noah Jay (President of MagSoc), and Professor Julia Gog (Fellow, Senior Treasurer of MagSoc).
Parth Deshpande (2021), alongside tabla player Lavan Ravidran, performed in Raga Kirwani on the piano. The performance started with a free improvisation and concluded with a composition, written by Parth himself.
"It was thrilling to see the enormous range of musical talent in Queens' on show in this year's Tyro Prize! It was made all the more enjoyable by being able to return to live music in person, too. As demonstrated by our 20-minute deliberation time, the decision we came to was not an easy one, but Parth stood out as a very worthy winner."
"I thank Queens' and Magsoc for providing a platform to showcase world music. I believe that all performances in the Tyro Prize concert this year were equally top-notch, but I thank the judges for choosing to award it to my Indian classical performance in Raga Kirwani on the piano. Kudos to Lavan Ravindran for accompanying beautifully on the tabla."
The Tyro Music Prize was established to promote and encourage students who play as a hobby to continue making music. The prize is open to undergraduate and postgraduate students who are not Music students, scholars, or have a diploma on an instrument.