Welcome to the first
Alexander Crummell Scholars
Meet our new Scholars!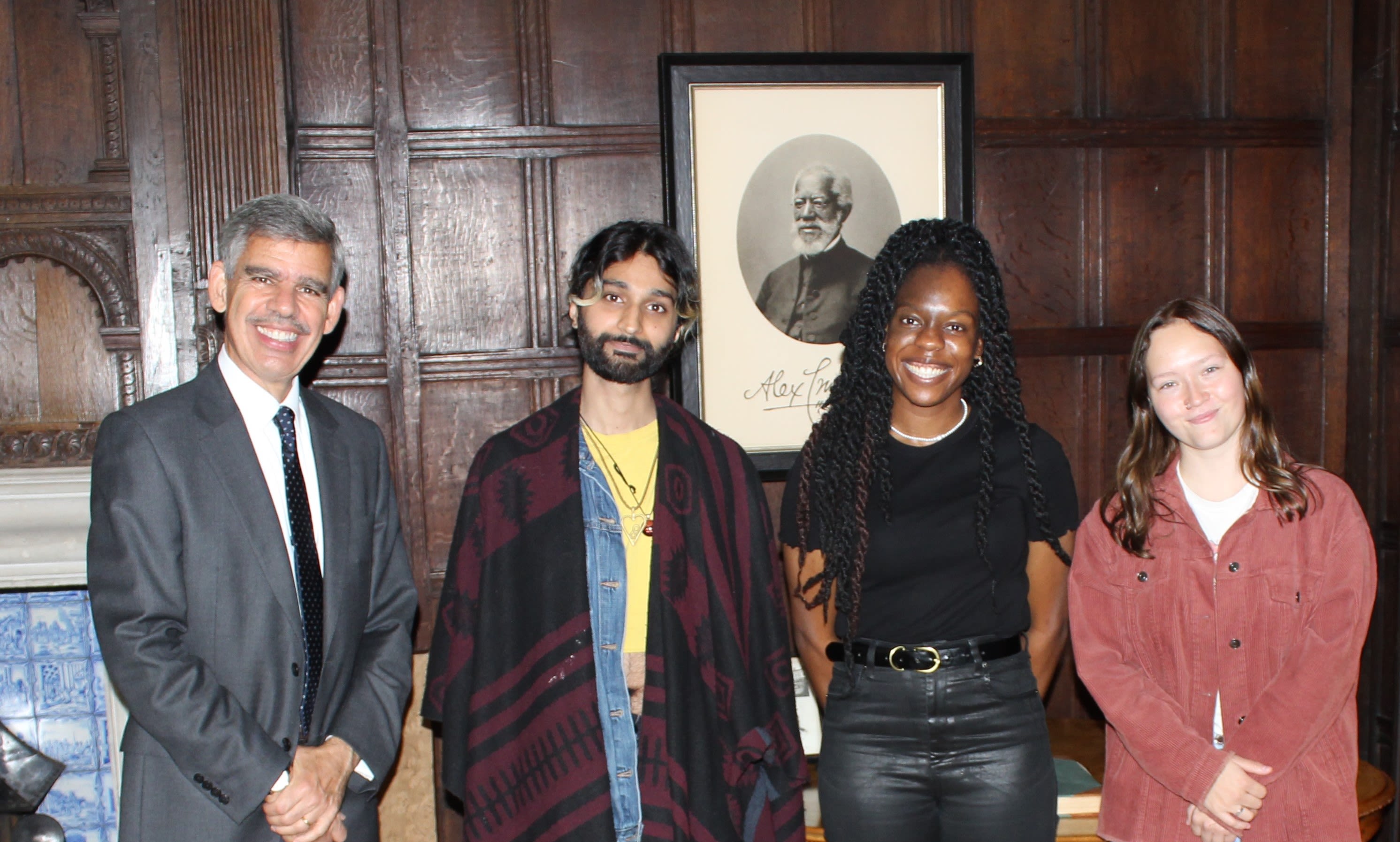 Alexander Crummell's portrait hangs in the Essex Room of the President's Lodge
Alexander Crummell's portrait hangs in the Essex Room of the President's Lodge
This year, Queens' welcomed the first recipients of the new Alexander Crummell Scholarships: Tomi Akingbade (PhD), Adil Mian (MPhil) and Chloe Sainsbury (MPhil).
The Scholars were invited to the President's Lodge to meet Dr Mohamed El-Erian who has led the project to offer a pathway for students from access backgrounds to continue on to postgraduate study. The photograph is taken in The Essex Room of the Lodge where Alexander Crummell's portrait is displayed.
The Scholarships are a fantastic opportunity open to all students intending to commence to Master's or PhD degrees in a STEM or Arts/Humanities/Social Sciences subjects. They are "full ride" scholarships for UK-domiciled students, meaning that all fees and maintenance costs are covered.
The Scholars are closely supported by three Fellows: Dr Jane Garrison (Admissions Tutor & Psychological & Behavioural Sciences), Professor Andy Rice (Computer Science) and Dr Edwige Moyraud (Biological Sciences).
Find information here on how to apply for 2022/23 entry
Meet the Scholars below:
Tomi Akingbade
BSc in MSc Neuroscience, Nottingham University
PhD Scholar in Biochemistry in Sir David Klenerman's group
Founder of Black Women in Science movement
"Thanks to the Alexander Crummell Scholarship, I am a big step closer to my career goal and will be joining the Klenerman group to identify key points in the neurodegenerative process [...] I'm very excited to be joining the Queens' community as the rich environment will be a great place for me to develop as a person and scientist."
Adil Mian
BSc Physics, Queen Mary in London
Studying for a Master's in Physics
Access mentor for students from disadvantaged backgrounds
"I have immense gratitude for the Alexander Crummell Scholarship. Without it, I wouldn't have the opportunity to study at Cambridge like so many other marginalised peoples who are deserving but find themselves without means of access to certain privileged institutions."
Chloe Sainsbury
BSc-MSc Psychology, Birmingham University
Studying for a Master's in Biological Sciences
Wants to proceed to a PhD after her Master's
"As a student from a low-income background, I was especially pleased to be selected for the Scholarship as it will allow me to conduct my research unrestricted by financial concerns. Now I can fully make the most of all the opportunities provided by the Scholarship and Queens'!"